TheBeerNut

6242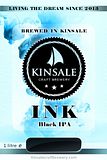 Black's Kinsale Craft Brewery is one of the newest arrivals on the rapidly growing Irish craft beer scene, founded by Beoir member Sam Black. So far one beer has been produced under the brand -- Kinsale Pale Ale -- which already has a medal under its belt, winning bronze at the recent Alltech Dublin Craft Cup. Sam is currently producing his beer at the Eight Degrees brewery but has plans to set up his own kit in the town of Kinsale itself, and that's where you step in.
To get things moving, Sam is seeking crowd funding via the IndieGoGo website. It's not the first time an Irish brewery has taken this approach to financing, White Gypsy ran something similar earlier this year via Linked Finance. While White Gypsy's scheme was more a call for investors seeking a monetary return, Kinsale's scheme on IndieGoGo is offering a range of unique and exclusive incentives for investors over a range of prices.
Just €5 will ensure your name is etched on the sponsor's wall in the brewery, while at the upper end €1,000 buys you your own personalised batch of beer: 200 bottles of your ideal brew, created under your supervision and personalised with your own label. In between there's a wide range of other items available, including t-shirts, brewery tours, tankards and three exclusive yet-to-be-brewed beers, a double IPA, black IPA and imperial stout, created in a strictly limited edition.
If you want to lend some direct support to Irish craft brewing, avail of exclusive one-off beers or just have your name recorded as one of the people behind this part of Ireland's beer revolution, check out the Kinsale Craft Brewery project at IndieGoGo before September 15th.
Update: Beoir is aiming to commission a special batch of custom beer from the new brewery. If you'd like to be one of the twenty people involved, pledge your support here.