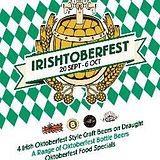 Oktoberfest season is upon us once again, the annual celebration of strong Bavarian lager served in one litre mugs. It's the time of year when you can expect to find even the most traditional of Irish pubs decked out in blue and white and flying the flags of either Paulaner or Erdinger.
Usually, The Bull & Castle in Dublin is no exception to this, but they've taken a different tack for 2013. From 20th September through to 6th October the Beer Hall will be celebrating its first "Irishtoberfest", showcasing limited edition beers from Irish microbreweries.
The line-up includes Eight Degrees Amber Ella, one of the best-received beers at the Irish Craft Beer and Cider Festival earlier this month. Brand new specials include Smokescreen: a dark smoked ale from Metalman, and Fuzzy Logic: the first wheat beer by Trouble Brewing. If you simply must have a maßkrug of lager there's O'Hara's Helles and Eight Degrees Barefoot Bohemian Pilsner to quench your thirst.
Prost!