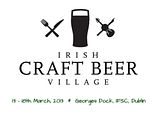 From Wednesday 13th March right through the St. Patrick's Day holiday weekend there'll be an opportunity to sample a wide range of Irish craft beers at the Craft Beer Village on George's Dock in Dublin's IFSC.
It will be open daily from 12 noon, closing at 10pm on Wednesday and Thursday, 12.30am Friday to Sunday, and 6pm on Monday.
From 13th to 15th admission is free before 7pm and €5 after, then €5 all day 16th to 18th.
For full details and breaking beer news, visit the festival website.