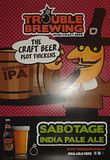 Kildare-based microbrewery Trouble Brewing have just launched the third beer in their regular line-up: Sabotage IPA. This is a 5.5% ABV India Pale Ale which makes extensive use of Galaxy hops, a variety prized for its tropical fruit flavours.
Trouble was founded in 2009, originally in Allenwood, Co. Kildare. 2013 will see the brewery move to a bigger premises closer to Dublin, in the village of Kill.
The new beer joins Ór golden ale and Dark Arts porter in the Trouble line-up and will initially be available in keg and cask formats, with a bottled version to follow later in the year.