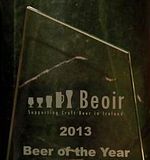 The past 12 months has been a bumper year for Irish beer. Once again, Beoir wishes to take stock of the many wonderful brews available and we need your help picking the best of the bunch.
Voting is now open for the 2013 Beer of Year: the only beer competition in which every beer brewed and sold commercially in Ireland is eligible to win, voted by the drinkers.
You'll find the full rules of the competition, and details on where to send your vote on our forum here. We've also compiled a list of every Irish beer we can think of to help jog your memory. You must be a registered member of the forum to vote, but registration is quick and free.
Edited 08/01/2013: Due to suspicious patterns in the votes received so far, we have regretfully had to restrict voting to Beoir subscribers. Votes from forum members who are not Beoir members will not be counted. These awards have always sought the maximum mandate from Irish drinkers and it is disappointing to see this integrity being abused. The voting restriction now in place, while far from ideal, will help ensure that 2013's Beer of the Year reflects a meaningful choice made independently by the drinkers of Irish beer.
Voting closes on Monday 4th February so get thinking about your top three beers and make your vote count.