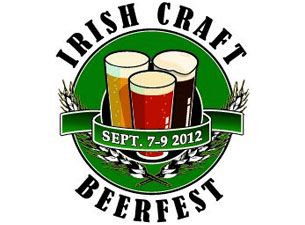 The following is the official press release for the first Irish Craft Beer Week, culminating in the Irish Craft Beer Festival at the RDS Dublin from 7th - 9th September 2012.
Beoir representatives will be at the festival all weekend to talk beer and brewing with festival-goers.
Ireland launches its first ever Craft Beer Week, topped off by the Irish Craft Beer Festival

Today, 29th August, 2012, marks the opening of Ireland's first ever Irish Craft Beer Week with the aim of introducing both Irish consumers and retailers to this flourishing local trade. At present, there are approximately 20 Irish Craft Breweries throughout the country, responsible for the employment of 90 people and accounting for approximately 1% of the market share.

There has been a new found surge in demand for craft beer in Ireland despite some of our craft breweries operating for over 15 years. Seamus O'Hara (owner of the Carlow Brewing Company and Co-Founder of the Irish Craft Beer Week and Festival) notes, "The Irish craft beer market has come on in leaps and bounds very quickly. We were export focussed in the early days because craft beer was so new to the Irish market. We are very encouraged by the surge in demand in Ireland in the past couple of years and we just need people to know what craft beer is, what it tastes like and what it entails."

The Irish Craft Beer Week was officially opened this afternoon in the Bull and Castle Pub in Dublin. The launch welcomed top Irish journalists, media and food experts with a craft beer and food pairing experience hosted by Geoff Carty (manager of the Bull and Castle), along with Seamus O'Hara and Bruce Mansour (co-founders of Irish Craft Beer Week and Festival).
Irish Craft Beer Week

The Irish Craft Beer Week is aimed at showing support and on-going commitment to craft beer drinkers and fans. The organisers are keen to support this local market of breweries and are also confident that the week will introduce new customers to the Irish craft beer market whilst simultaneously promoting a responsible and safe attitude towards alcohol – quality over quantity!

Throughout this week, over 70 participating outlets nationwide (including pubs, off licenses, restaurants etc.) will come together in the support of Irish Craft Breweries and to offer craft beer lovers a hop-tastic experience, including special offers, tastings and expert views on the product range. The ultimate insight into the Irish craft beer market will be held in the RDS from 7-9th September - the fourth Irish Craft Beer Festival.


The Irish Craft Beer Festival 2012

The Irish Craft Beer Festival returns to RDS, Dublin from 7-9th September, 2012. A celebration of Irish craft brewing, live music and fabulous Irish artisan food stalls.

Featuring over 20 Irish craft breweries, craft cider producers and a number of guest breweries, the festival is expected to attract over 5,000 attendees throughout the weekend. This year, the team is looking forward to showcasing niche brands, new products and pipe-line products, as well as providing craft-beer lovers with a unique insight to the Irish craft brewing scene and the opportunity to meet the brewers.

For the first time, the festival will launch with a one-of-a-kind beer and food pairing evening on the 6th September, offering guests the opportunity to learn more about the different attributes and traits of Irish Craft Beers as well as providing a deeper understanding on which foods complement different types of craft beers.

Irish craft breweries featuring at the festival include, but are not limited to, O'Hara's, Dungarvan, White Gypsy, Eight Degrees, Trouble, Franciscan Well, Porterhouse and Dingle. Guest breweries include both Sierra Nevada and Kentucky Bourbon Barrel Ale. Co-Founder of the Irish Craft Beer Festival, Seamus O'Hara, says, "We have seen really strong growth in demand for craft beers in the past year bucking the general trend for the beer sales. It's getting people talking about beer in pubs again and because craft beer has more flavour we are seeing a lot of experimentation with food pairings. Irish Craft Beer Week is a great time to try something new or come along to the RDS between 7-9 September for a unique chance to taste over 50 different beers and meet the staff from 20 different breweries!"

Tickets for the festival start at €10 per day and can be purchased from Ticketmaster as well as participating outlets. For tickets to the beer and food pairing evening on September 6th please contact the team on This email address is being protected from spambots. You need JavaScript enabled to view it..