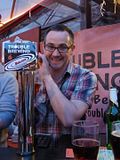 After a good four and a half minutes of soul searching, we made the momentous decision to revisit the Troublemaker competition for 2012. We've also made a few tweaks to the rules and regulations after feedback from the inaugural competition (winner Rossa O'Neill, pictured right). This time round a greater weight will be placed on the taste, rather than the practicalities of brewing the beer.
We'll also endeavour to provide feedback on each of the beers after the judging night, rather than just the final score, which was one of the main items that was requested as an improvement.
And since the resulting brew will be a once off we're looking to make a non-Reinheitsgebot beer, though this is by no means essential, so brewers are encouraged to brew a beer using ingredients other than water, barley and hops. (Though using yeast as that radical non-compliant element won't win any friends nor influence people!) Anyway just to restate the rules...
Judging

We'll assemble a judging panel, of unrivalled knowledge, discernment and sophistication, who'll do a blind taste and judge the merits of each beer.

Points will be awarded based on the following criteria: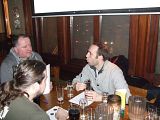 75% on taste.
25% for having an imaginative brew that we can scale up to a full-size batch.

Prize

The winner will get to see their winning recipe being brewed up on our system and can, if they so desire, spend the day in the brewery while it is brewed. We'll then have the beer on sale at the Franciscan Well Easterfest as well as the various other festivals during the summer.

In addition we'll have a dinner voucher for the winner (anything off the Eurosaver menu) and some bottled beer hampers for the first and second runners-up.


Our crack legal team have advised us that this needs to be restated: The prize won't include the proceeds of the sale of any resulting beer, as brewing commercially is an expensive business and costs need to be paid. However the opportunity to lord it over your fellow brewers, and rub their noses in your victory, is priceless (see photo above).

How to Enter

Closing date for entry is 31/01/12 and each entry should contain two 500ml bottles of beer and be accompanied by a list of all ingredients and a little blurb about the beer. We've never claimed to be incorruptible, so beer accompanied by a brown envelope stuffed with fistfuls of used fifty euro notes will help your chances considerably. Beer can be dropped off in The Bull & Castle (Dublin), The Bierhaus (Cork) or The Salt House (Galway) and should be clearly marked for the Trouble MAker competition; or if you prefer to post the address is:

Trouble Brewing,
Allenwood Enterprise Park,
Allenwood North,
Naas, Co. Kildare.

If you're posting the usual disclaimers apply, in that, once the bottles enter the vagaries of the postal system, nothing is guaranteed until they reach us. So pack 'em up well, with loads of used fifty euro notes as padding.

We were asked several times for the last competition if there was a limit on the number of entries per person that we'd accept. We've chosen not to limit it again this time, but instead to say that we're of the opinion that "putting your best foot forward", rather than sending in every beer brewed between now and then, is probably the way to go.

We'll announce the full list of entries and the date of judging after the competition closes. Think that's all for now, as always: questions, comments, are welcome at This email address is being protected from spambots. You need JavaScript enabled to view it. or in this thread.