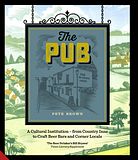 English beer writer Pete Brown is probably better known for his matey-blokey beer history and travel books, like Hops & Glory (the definitive story of IPA) and Shakespeare's Local (a history of one not-so-well-known London pub). His latest is a rather different format, however. The Pub, subtitled "A Cultural Institution - from Country Inns to Craft Beer Bars and Corner Locals", is a glossy, lavishly illustrated, coffee-table job, highlighting 50 different pubs around the UK.
It's more than a work of pub pornography, however. The book also has a practical remit, documenting an additional 250 pubs to the ones featured, so despite a total lack of portability it also has a very useful reference function. If you're going to a specific part of the UK and looking for particularly pretty or otherwise noteworthy pubs to visit, this book is of real help. The pubs are set out region by region with a couple of exceptional examples given a double-page spread of photographs and Pete's personal account of the place. These highlights are interspersed with single-paragraph descriptions of other pubs in the region, all with details of facilities available, address and contact details.
The chapter on Northern Ireland is short, and while The Crown in Belfast obviously gets the full-spread treatment, there are also mentions for The Sunflower and even BrewBot, as well as a number of places I wasn't familiar with, including Groucho's of Richhill, in Co. Armagh's cider-producing area.
If particular types of pub are of interest to you -- historical, architectural, foodie, musical, coastal, railway -- a special section is dedicated to these with specific recommendations.
As well as the travel guide stuff, there's also a good tranche of solid Pete Brown content in the opening chapters, covering topics including the British pub's history from the variety of medieval institutions that coalesced in the 19th century into the modern pub. There are also essays on pub architecture, atmosphere, games, and the varied aspects of pub culture.
Beer is a very minor topic of interest in the book. Though there is a page or two dedicated to a handful of pubs with exceptional beer offers (hello The Wenlock Arms), the author states that "good beer is not essential for a good pub" and admits that at least one of the entries was serving dire beer when visited but still earned a place by its food and atmosphere.
Early on, Pete says "This book is about the essence and personality of a pub", and it does succeed in capturing this, with its mix of useful information, interesting facts and well-phrased personal observations. As a highly visual book there is naturally an emphasis on the more photogenic sorts of places, mostly of the tradional types, big on horse brasses and Victorian ceramics. But above all it's a love letter to the British pub in all its forms with all its functions. The author's enthusiasm comes through throughout and is enjoyable and infectious. As someone who does a lot of research on travel and pubs I liked having this personal touch and will definitely be referring to the book when I'm next planning a beery trip to Britain.
Publisher: Jacqui Small; Hardback; 256 Pages; ISBN: 9781910254523.