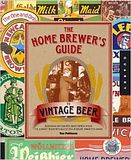 As an authority on the nuts and bolts of beer history, Ron Pattinson needs no introduction. Through his Shut Up About Barclay Perkins blog over the last seven years he has left no stone unturned in seeking out primary evidence of past beers, scouring brewery logs, media reports and marketing material from a swathe of breweries -- mostly British -- to find out exactly what they were brewing, how, and from what.
This book represents a distillation of that research into a single volume which not only describes how various beer styles evolved with reference to concrete historical examples, but also allows the amateur (or professional) brewer to recreate any beer covered in the most accurate way possible.
The format of the book is immediately striking: a glossy hardback, spiral bound so it stays open at any chosen page, particularly useful if following one of the recipes on a brewday. There's a short introduction covering brewing ingredients and methods, and then it leaps straight into the styles. Porter, Stout, IPA, Pale Ale, Light Ale, Mild, Burton Ale, Scottish Ale, Brown Ale, and then a final section covering some mainly extinct German styles such as Broyhan and Kotbusser. The intention is to represent a cross section of each style, tracing how it developed, with 1800 and 1965 set as the temporal boundaries. Just over 100 recipes are presented side-by-side, real-life examples of the styles based mainly on brewery logs and adapted to the ingredients available to the modern brewer.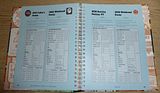 For the student of beer history it's especially fascinating to see the data laid out in this way. On one double-page spread in the porter section, for example, we can see the effect of war on the beers available to London's drinkers: starting at the left, there's a 1910 Fuller's Porter with an original gravity of 1.049, plummeting to 1.028 for the 1922 Whitbread Porter next to it, rallying in 1936 to 1.033, as brewed by Barclay Perkins, only to plummet again in 1940 when Whitbread Porter was down at 1.029 once more. Historical titbits are provided by Ron in the notes, such as that Fuller's used flaked corn and brewing sugars enthusiastically in 1910, and that Whitbread's brewery survived the blitz largely thanks to its own fire brigade.
Among the most interesting chapters, I thought, was the one on mild, following the dramatic career of this style that's barely a style at all: starting out in 1832 as a golden beer with a double-figures ABV, and ending in 1950 as the lower-strength dark ale we know today. Conversely, the chapter on IPA shows how steady this style was, never varying far from 5% ABV between 1839 and 1953.
This is not a definitive read-through history of British beer (for that you need Martyn Cornell's excellent Amber, Gold and Black), nor is it solely of interest to home brewers. This book is for anyone whose interest in beer history runs deeper than what gets written on brewpub menus or bottle labels and would like to know more about what was going on behind British brewhouse doors in the 19th and early 20th centuries, and why.