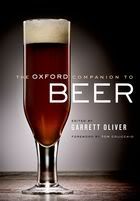 The Oxford Companion to Wine was first published in 1994 and is now in its third edition. It is widely regarded as the authoritative work on wine by both connoisseurs and those in the trade, with contributions from the most well-respected writers in the field of viticulture and oenology. It is, in short, a book for people who take their wine seriously.

That in 2011 the Oxford University Press published an equivalent volume for beer is the clearest sign yet that our poor relation of the drinks industry is suddenly finding respect among the public at large. But does The Oxford Companion to Beer rise to the task of being beer's authoritative work?
The vital statistics look good: accomplished writer and brewer Garrett Oliver is the editor, with an advisory board which includes such luminaries as Charles Bamforth. The contributor list features all the names you'd expect from the UK -- Protz, Cornell, Brown, Avery and so on -- though while North American home-brewing is well-represented (Palmer, Daniels, Mosher) there are notable absences in the mainstream beer commentators: no Stan Hieronymous, Stephen Beaumont nor Lew Bryson. Outside the anglophone world there are also articles from diverse brewers and writers in Germany, Belgium, Denmark, Japan and many other places besides.

The coverage is certainly comprehensive: everything you wanted to know about beer, plus plenty you didn't realise you wanted to know about beer but got sucked into the article about it anyway. Major figures in beer past and present are sketched: Josef Groll, Michael Jackson, Pierre Celis and Ken Grossman, to name but four. The obvious topics like trappist brewing, the Reinheitsgebot and Real Ale are all thoroughly covered, as well as the brewing history of major brewing nations, beer styles, and plenty of famous and not-so-famous (to me anyway) breweries. The basic ingredients of beer all have entries and selected specific varieties of malt, hops, yeast are also covered. Adjuncts and bacteria? Those too.

Where it really excels is in the tiny technical details: Bamforth provides more than a page on "foam", for example. And if you ever needed to know the difference in effect of 4-vinyl guaiacol versus 4-vinyl syringol, there are entries on both. Should you require a quick explanation of decoction or isovaleric acid to keep up with the discussion on a web forum, this is an ideal book to have to hand for quick reference.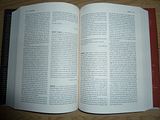 So far so good. However, followers of the beer blogosphere may have noticed some scathing reviews which appeared there late last year, focussing, once again, on the little details. The criticism is justified to an extent. Looking just at articles relating to Ireland, while mixing up Derry and Kerry in the entry on The Porterhouse (the location of their forthcoming distillery) could be regarded as a forgivable slip of the keyboard, the entry on Irish red ale is woeful, making no mention of Smithwick's -- or any other actual Irish red ale -- at all. Such lapses can make it very difficult to trust other articles on less familiar topics and puts paid to any notion of the work as a quotable authority.

I would hope that these admittedly minor off-flavours in an otherwise well-balanced product will be corrected in a future edition and I don't think I would necessarily suggest that the reader wait for a new one rather than buy the current edition. A companion wiki for corrections, clarifications and expansions has been set up by Alan McLeod here. If it sounds like the kind of book you'd like, and if you get interesting information from a few dips into the content (Amazon offers a generous searchable preview), then it's worth having. Its value is probably increased if you have an e-reader as it's not a very portable volume in hardback, and being able to search and annotate is a major advantage.

This is definitely a book for people who take their beer seriously, even if it is not yet the world's authoritative beer bible.

Discuss this item in the forums