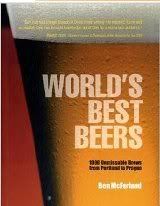 There's no shortage of reference books about beer on the market, from the wordy official guides published by the house of CAMRA to the glossy encyclopedia-style tomes that come from the likes of Dorling Kindersley, more often than not bearing the name of the late Michael Jackson on the cover. The former can tend towards being stuffily prescriptive while the latter are generally so broadly pitched that there's very little for the beer enthusiast to chew on. The amount of free beer information on the Internet these days makes it difficult to justify shelling out cash on a beer reference book, other than for the look and feel of the thing. UK beer writer Ben McFarland has attempted to bridge this gap by creating a lavishly illustrated guide to world beer that also highlights the real quality beers and breweries of which those in the know speak reverentially.
World's Best Beers is subtitled One Thousand Craft Brews From Cask To Glass in the US, and 1000 Unmissable Brews from Portland to Prague in Europe. With opening pages decorated with Orval and Aventinus, you know you're in the hands of an genuine enthusiast.
The bulk of the book takes us through the world, region by region, brewery by brewery, with a paragraph on all the significant beers. And the selections are clearly done by hand, with an eye on quality. You won't, for instance, find anything beginning with G listed under Ireland, but you'll find both O'Hara's Red and Stout. For each area a brewery or two is singled out for a fully featured double-page, and again these are chosen with the conscientious drinker in mind. There's an interview with Mikkel Borg Bjergsø, the man behind Mikkeller, as well as profiles of Unibroue in Quebec and California's Firestone Walker. For the UK, both Meantime and Harviestoun are given the close-up treatment.


Surrounding this world tour, there are short chapters on all the things you'd expect in an introductory beer book: the history of beer, a guide to the styles and types and some instructions for tasting beer properly. But there's more advanced material too: a detailed introduction to ingredients, for example, giving the major characteristics of 33 hop varieties. A full chapter is dedicated to beer and food, with a concise one-page pairing guide, followed by more detailed suggestions for finding suitable beer to go with seafood, meat, poultry and game, cheese, dessert, spicy food and snacks. A handful of recipes are provided, courtesy of food guru Rick Stein.

The Internet notwithstanding, I think World's Best Beers stands up as a useful reference guide for the committed beer geek. Between the extensive foodie chapters and the nosing into far-flung corners of the world, there's plenty of good stuff here. But where it would really excel, I think, is for the newcomer to the wonderful world of beer. It's a first-rate primer for all that's good about beer with plenty of directions on how best to build one's knowledge and love of beer without making too many wrong turns. As a one-piece kit to turn your friends into beer geeks, this book is ideal. The only let-downs are a few unfortunate typos, some out-of-date listings (Kinsale Brewing Company is there), and the occasional poorly-checked fact. Apart from these it's an excellent resource and a handsome adornment for any coffee table.