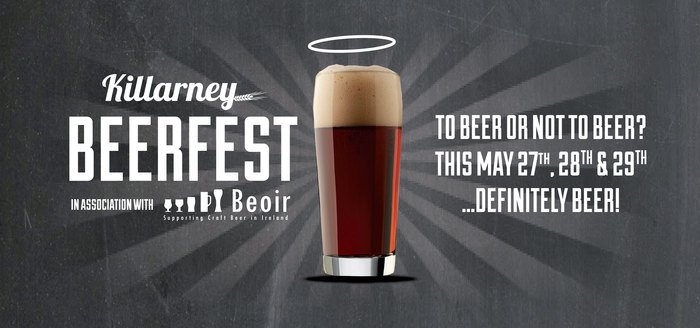 Here are the results of the Killarney Beer Awards for 2016. We had 165 entries which was more than double compared to last year.
Judging started on Saturday at 11am and the final round was completed by 7pm. A massive thanks to Kellie Dawson and her team of stewards who worked the mammoth task of preparing the bottles on Friday. Kellie worked from 10am until 10pm on Friday categorising bottles. Unfortunately, a lot of time was wasted due to many entrants either not covering up their labels correctly or else not bothering to cover them up at all.
We will have to be more strict about entries next year.
Images from the event can be found on the Beoir Flickr page. Direct link here.
The scores from the first round of judging are being compiled and will be sent to breweries along with their feedback.
Beoir Champion Beer of Ireland 2016:

Kinnegar Brewing, Flying Saucer
First Runner Up:

Trouble Brewing, Stakeout
Second Runner Up:

The White Hag, Púca
Yellowbelly Brewery– Yellow Belly, American Pale Ale

Killarney Brewing – Killarney,

Scarlet Pimpernel IPA

Farmageddon Brewing Co-Op, Farmageddon IPA
Killarney Brewing Company, Spailpín Saison

O Brother Brewing, Huck Saison

Rising Sons Brewery, Mayhem
Yellowbelly Brewery, Fierce Mild

JJ's Craft, Bills Red Ale

Brehon Brewhouse, Killanney Red
Specially Commended: Two Sisters – Brigid's Ale
Specially Commended: O Brother – The Fixer
St Mels Brewing, Springbock

Trouble Brewing, Kill Lager

Manor Brewing, Mont Irish Mountain Beer
Specially Commended: Rising Sons – Sunbeam
Kinnegar Brewing, Flying Saucer

The White Hag Brewery, Black Boar

Trouble Brewing. Dark Arts
Trouble Brewing, Stakeout

Kinnegar Brewing, White Rabbit

Hillstown Brewery, The Goat's Butt
Yellowbelly Brewing, The Passion Brewing

The Porterhouse Brewing Company, Louder Barley Wine

Rascal's, Ginger Porter
Specially Commended: White Hag – Barrel-Aged Black Boar
Sour Beer
The White Hag Brewery, The Púca Dry Hopped Lemon Sour

Otterbank Brewing, This is Berlin / Die Wikinger Kommen

Torc Brewing Company, Anything Gose
Stonewell Cider – Esterre Sparkling Prestige Applewine

Stonewell Cider – Stonewell Dry Cider New World Cider

Stonewell Cider – Stonewell Medium Cider New World Cider