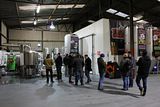 The traditionally quiet New Year period was not so for the beer fanatics of Beoir. Circumstances led to two brewery visits being arranged for consecutive Saturdays in January, making for early starts, long days and in one case, actual hard work.
Following the success of Beoir#1, the double IPA brewed at Black's of Kinsale last year, the brewing members were keen to have another go at commissioning a commercial beer. So when Trouble Brewing offered to host Beoir#2 they leapt at the chance. This time Reuben put the recipe together and a little after 9am on 10th January the mash got under way.

Trouble Brewing released its first beers in 2010 and a few months later Beoir visited it at its first home in Allenwood, Co. Kildare. It didn't take long to outgrow the premises and in 2013 relocated to Kill. The new site is considerably bigger and has plenty of room for expansion. To that end, a new set of double-sized fermenting tanks have recently arrived and are awaiting commissioning, so it's very much a brewery on the up. Last year saw Fuzzy Logic wheat beer added to the permanent range and there is a continuous stream of seasonals and once-offs, including the one we were making.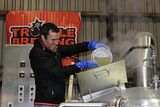 Beoir#2 will be an imperial amber ale using Waimea and Wakatu hops and went into the fermenter at an OG of 1.076 so should pack plenty of punch. The mashtun certainly got a workout, as did the volunteers who filled it and then cleaned it out again.
For those not inclined to hard work, our hosts generously provided warming Dash Away stout on cask and brewery-fresh Oh Yeah! black ale on keg. Half way through we adjourned for lunch at the nearby Dew Drop Inn in Kill village. By 4.30 the yeast was pitched and the day's work was over. Look out for Beoir#2 on draught in the spring, and if you want to see more of the brew day, watch the video here.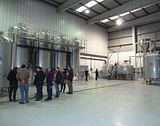 One week later our destination was considerably further west though this time it was all rather more casual. Galway Hooker is another that has recently relocated to expand, moving from the poky premises in Roscommon Town where it was established in 2006 to a massive new site in Oranmore. The brewkit has been upgraded to a state-of-the-art automated set-up, though a few of the old fermenters have been retained and help to show just how much larger the new brewery is by comparison. There's also a neat little tasting bar on site which features in the tours they now offer.
While Hooker's iconic pale ale still accounts for most of production their stout has been making inroads recently and has now been joined by a third permanent beer, a bottle-only dark lager. A sample or two of each was kindly supplied to the visitors along with a veritable banquet of sausage rolls and quiche. The party continued back in Galway city at The Bierhaus.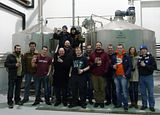 On behalf of Beoir I'd like to offer a huge thanks to the teams at Trouble Brewing and Galway Hooker for the hospitality. Both companies show that the expansion of Irish craft beer is as much about the development of established breweries as the foundation of new ones. Long may both trends continue.