My second suggested weekend destination for the beer lover is the city of Amsterdam. This might seem a strange choice to some, but despite all the publicity regarding the drug and sex trade, Amsterdam is a beautiful city and has plenty of great pubs and great beer. It also features a host of non-beer attractions to help work up a thirst, such as the Rijksmuseum, Van Gogh museum, Anne Frank house, Rembrandtshuis, not to mention the beautiful 18th century architecture along the canals. I have been to Amsterdam five times, and on the first occasion I will admit that I found it difficult to find a pub that didn't only offer Heineken or Amstel. The real pubs are often stuck down some alleyway! Do some research beforehand, and be prepared to seek out these pubs. They are well worth the effort.
Try the Zeedijk area (near Central station), a great place for a pub crawl on a Saturday afternoon. It was formerly a very dodgy docks area, but has been revamped as a Chinatown type area that leads down to Nieumarkt (where there is an interesting pub; In de Waag). Zeedijk has several decent pubs including Elfde Gebod (eleventh commandment), In de Ooievaar, Int Aepjen, and Verhoeff, all with 400 metres of each other. There is also an excellent inexpensive Indonesian restaurant called 'Bird' on Zeedijk. Try to avoid Leidseplein, where most tourists tend to congregate. There are plenty of "brown" bars throughout Amsterdam in areas like Jordaan just waiting to be discovered. These will usually have a decent pils (like Brand) and another tap with something like Grimbergen bruin, and offering a decent selection of bottled beers.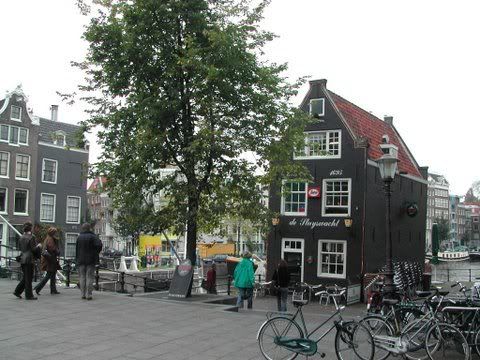 De Sluyswacht leaning pub, opposite Rembrandt's house.
Some Suggested Venues in Amsterdam (the first four are very close to Dam Square):
Café Gollem, Raamsteeg 4. This is a classic beer café with up to 9 beers on tap. On my last visit these including Brand Pils, La Chouffe, Tripel Karmaliet, Charles Quint, Duchesse de Borgogne and Barbar Bokbier. This is a fairly small place with a huge selection of bottled beers listed on blackboards on the walls. They can provide snacks, such as a plate of Trappist cheeses. It opens at 4pm and often has Westvleteren.
In de Wildeman, Kolksteeg 3, just off Oude Brugsteeg (18 draught beers!), and actually has a non-smoking room. This is a legendary beer bar with extensive Belgian, Dutch, German and English offerings. Opens noon, closed on Sundays.
Café 't Arendsnest, Herengracht 90 (12 draught beers!) opens @ 4pm. This is a specialist beer café that only stocks Dutch beers, but has the definitive selection. Michael Jackson (The Beerhunter) filmed some of his classic BBC series here. It is a bit of a walk from Dam square. Owned by Peter van der Arend (Arend means Eagle!).
Café Belgique, Gravenstraat 2, this tiny pub is a must! Great atmosphere and selection; six beers on tap, usually including Vlo (from Brouwerij 't Ij) and Pauwel Kwak.
Brouwerij 't Ij, Funenkade 7, local brewery with a brewery tap (cheap beers). This is a bit off the beaten track and maybe a taxi would be best; check for opening times to avoid disappointment!
Proeflokaal de Zotte, Raamstraat 29, near Leidseplein opens @ 4pm (beer and cheese). This is an atmospheric (and busy) local bar with a good Belgian beer selection; it can be a bit smoky at night.
Elfde Gebod, Zeedijk 5, try this long narrow bar with its great selection of Belgian and Dutch beers and snacks. There are several other decent bars nearby.
You might also be interested in visiting two great beer shops; De Bierkonning on Paleisstraat close to Dam Square, and De Gekraakte Ketel (The Cracked Kettle) which is opposite Café Gollem. Both have an amazing selection of bottled beers and glasses to bring home. Why not buy something from the local breweries; Brouwerij 't Ij and Brouwerij de Prael.
Enjoy your trip and mind the bicycles!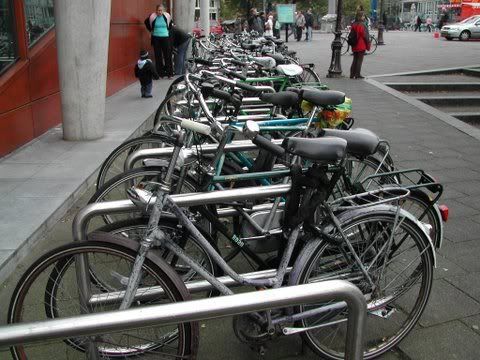 Amsterdam's favourite form of transport.
Logistics:
Amsterdam. Fly Aer Lingus to Schiphol, and take the train to Amsterdam Central (naar means destination!). Ryanair fly to Eindhoven and there is a bus to Amsterdam Central but it takes about 2 hours. Just make sure your hotel is located on a tram route, I prefer to stay away from the centre in a residential area such as Oud Zuid. Buy yourself a 48 or 72 hour tram ticket when you arrive (from office outside Central Station – GVB) and the city is yours.
Links:
Ron Pattinson's extensive Amsterdam pub guide:
http://www.xs4all.nl/~patto1ro/pubs.htm
Official Amsterdam tourist info:
http://www.amsterdamtourist.nl/en/default.aspx
Amsterdam Information and Hotels:
Amsterdam public transport:
http://www.gvb.nl/english/default.asp
Brouwerij 't Ij:
http://www.brouwerijhetij.nl/eng/index.html
John Stephens (Mar 2007).