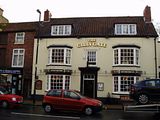 I recently had the opportunity to spend a day or so wandering the streets of the city of York. What a treat it turned out to be, and I discovered for myself that York is a fine destination for great pubs with a range of fine ales.
My first port of call (at 11 am on a November Monday morning) was the Gillygate (the pub with the same name as the street it lives on). I gathered my thoughts over a nice pint of Black Sheep and made a rough plan for the rest of the day. I also perused my CAMRA mini guide to York city. It was the only map of the city that I had, but contained all the information I needed! The only thing I really decided on though was not to visit the York Brewery, simply because of the time factor. There are four tour times per day and the times didn't really suit.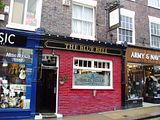 After a bit of a stroll, my second venue was The Blue Bell, a highly recommended pub on Fossgate. It is a former CAMRA York pub of the year. I sat in the front part which was about the size of a small living room. I enjoyed a pint of Landlord there in comfortable surroundings, again by an open fire.

After a further ramble, I crossed the Ouse Bridge and eventually came to Brigantes, and what a fine spot this is. It is large, well designed and modern, and has a fine range of decent ales and also a nice bottled beer menu. I took a pint of Constantine, a nicely hopped red-brown brew from the local York Brewery.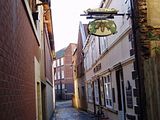 As The Ackhorne was nearby and was on my wish-list that was the next venue. It was now just before 2 pm and there were about three or four punters within, each one sitting by themselves reading the papers etc. I immediately turned my phone to "discreet" as I was afraid of disturbing the library-like atmosphere. There were a number of cask ales available, and I chose a Roosters Yankee. I was a little un-nerved by the solemn atmosphere so I was glad when my companion for the trip contacted me to meet up.

We adjourned for food to the King's Arms down by the river. This is a Sam Smith's place often frequented by tourists as it is famous for being one of the most flooded pubs in Britain. Like most Sam Smith's pubs, it is not the best and not the worst! I had a pint of their Brewery Bitter. After this we took a bit of a breather and did some shopping. Indeed it was up by the markets that I spied Pivo down a side street. This was one of a couple of places recommended to me by The Beer Nut, so I did not hesitate.


Pivo is just a great place; it is a sensitive restoration of a very old building and carries a superb range of beers on cask, on tap and in bottle. As I sat up at the bar, the first tap I spotted was Duvel Green. It was interesting to compare this lighter weight version of Duvel to the one I am familiar with. They also had La Chouffe on tap. I was offered a sample of a rauchbier that was subtle and smooth; it seemed to come from a Weihenstephaner tap, but I have not come across any information on it. I could have spent several hours in Pivo, as it felt very relaxing and carried so many brews I would have been happy trying. However, my sleeve was being tugged so we returned to our hotel for another break.

The Coach House Hotel is an old traditional coaching inn and was where we stayed. It is located on Marygate, close to the train station and convenient to the pubs. Of course, it is also in the York CAMRA guide and I had a pint of Yorkshire Terrier before we headed back out to dinner. Dinner should not concern us here (held in a Spanish tapas bar!), but later we returned to the small local pub right next door to the hotel called the Minster Inn. This is a quirky friendly place with a couple of cask ales; the one I chose was Sneck Lifter, a middleweight Jennings brew of 5.1%.

The following day was work until after 4pm and we had our last few York pints in the very excellent Maltings near the train station. The range of cask ales in here was probably the most varied I saw in the city and it is another fine place for relaxation, beer and conversation.

Many of the pubs I visited were part of the Yorkshire CAMRA LocAle promotion. This is part of a UK-wide campaign that started in Nottingham where cask beer brewed within 25 miles of the pub is given pride of place and special mention. And with Yorkshire being so full of independent breweries (North Yorkshire alone has about 25), there is plenty of choice under the scheme.

I will just mention one last place; this time in Leeds called Whitelocks. This is a superb Victorian pub located just off one of the main shopping streets down a side alley called Turks Head Yard. I had a pint of Leeds Best and a pint of Theakston's Old Peculier. I have had OP in a bottle before and considered it fairly good, but this cask pint was like the smoothest doppelbock you could imagine; a perfect end to a couple of days in Yorkshire. They also had Young's ale, London Pride, Fireside and Easy Rider on tap.

I will definitely return to York.

Discuss this item in the forums.