Séan Billings

12381
As anyone who has read any of my articles, or posts in the forum will know, I am a pretty obsessive amateur brewer. And, like most amateur brewers, I harbour the dream of going professional and brewing for a living.
Now, I have no formal training in brewing and have learned everything I know about the subject from books, the internet and trial and error. I would like to think that, at this stage, I have a fair bit of brewing know-how, but how much this applies to the world of commercial craft brewing, I have no way of knowing.
Enter Brewlab.
From their website: http://www.brewlab.co.uk
"What is Brewlab?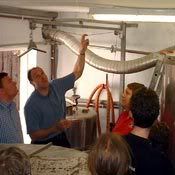 We are a recognised centre for brewing studies and microbiological services, based at the University of Sunderland in the North East of England, and have been trading since 1986.
We teach various brewing courses such as Start Up Brewing and British Brewing Technology and also provide specialist training in taste evaluation, microbiology and small scale bottling.
Our analyses services assist brewers with quality control, Tax & Excise compliance, and yeast storage and culturing. The due diligence service helps breweries to maintain quality and to comply with industry codes of practice."