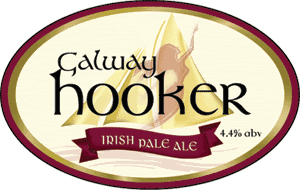 Galway Hooker is one of Ireland's newest craft beers, having only been on the market since the summer of 2006. It's a style that hasn't really featured on draught in Ireland before, a flavour packed hoppy pale ale.
I recently visited Hooker brewery and had a chat with brewer Aidan Murphy.
Pale ale is a style that has been largely ignored in Ireland. This changed in the summer of 2006 when Galway Hooker Pale Ale was launched.

The brewery is located in an an unassuming building in Roscommon Town which doesn't hint at the impressive copper clad brewhouse inside. The original plan was to set up the brewery in Galway itself but when it became apparent that a fully functioning and very impressive setup was sitting idle in Roscommon the decision was made to use this facility instead.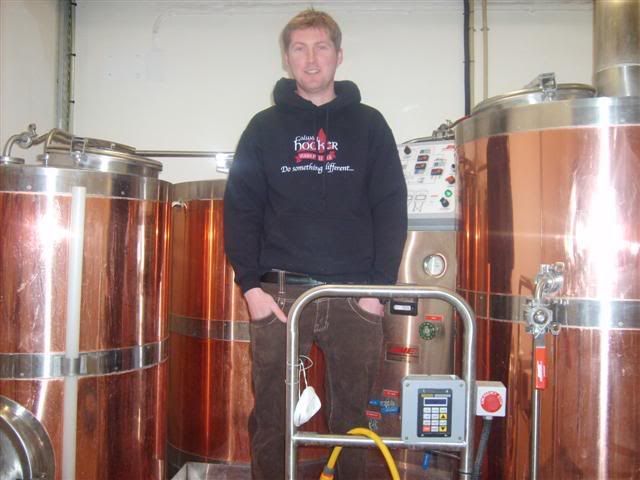 Brewer Aidan in the Brew House

Galway Hooker is brewed in 650 litre batches using Pearl Malt with a small proportion of Wheat Malt and Crystal.
The hops are a multinational affair. English First Gold and Fuggles are used for bittering while Czech Saaz and the distinctive American Cascade provide flavour and aroma. It's a combination that works very well and I had the opportunity to have a taste direct from the fermenter.
Fermentation Tanks

After fermentation the beer is matured for a minimum of four weeks before being kegged and making the journey to Galway's pubs.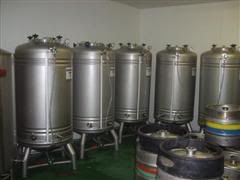 Conditioning Room

Given that the beer has only been on tap since last summer there are no current plans to brew other beers or to venture too far outside their current market of Galway's pubs.
Aidan first came across a brewpub when working in the US on a summer break from college. It was at this stage that his interest in learning to brew started to take hold. However his interest in craft beer and brewing goes back even further to when he was in school and did several exchanges to Germany. While there he saw all the diversity in small regional brewing. While attending a school in Germany for a term during his transition year he stayed in a village with a population of 3,000 people.
"It had its own brewery and it was then that I realised the world could be a better place!!"
Galway Hooker

Hops

Bittering hops:

1st Gold and Fuggles

Late Hops:

Saaz end of boil, Cascade in whirlpool.

Bitterness target

35 IBUs

Grist
Grist Load:


90% Pearl, 7% malted wheat, 3% crystal

Fermentation

Gravity:

OG: 1.041 PG: 1.007

Temperatures:

Initial temp of 19oC to top temp of 22oC

Conditioning

1oC for a minimum of 4 weeks, usually 6 six weeks if possible

Filtration

Filtered at 1oC to 10 microns

Carbonation

Carbonated to 2.5 vols