TheBeerNut

4151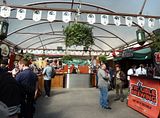 Now that the days are beginning to get longer it's time to look forward to some of the beer festivals coming your way over the next few months.

Cask and Winter Ales Festival, Cork, 15-17 February
At the opening event of the 2013 Irish beer calendar, The Franciscan Well will be hosting a celebration of cask-conditioned Irish beer, as well as strong and warming winter ales. Beoir members can avail of a couple of free drinks at the Friday evening session by showing a membership card at the bar.
More information

Irish Craft Beer Village, Dublin, 14-18 March
A five-day spectacular in the Dublin docklands as part of the overall St. Patrick's Day festivities. Featuring live music, artisan food and a wide range of beers from the independent Irish breweries.
More information

Easter Beer Festival, Cork, 30-31 March
One of Ireland's longest running beer festivals and always well attended by the breweries. Expect a mix of old favourites from around the country as well as new release beers and festival specials. Hosted by the Franciscan Well, it opens at 2pm on both days and admission is free.
Lots more beer festivals are planned for the summer and autumn in different parts of the country. Watch our events board and calendar for details as we get them.
TheBeerNut

4586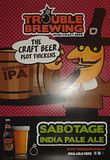 Kildare-based microbrewery Trouble Brewing have just launched the third beer in their regular line-up: Sabotage IPA. This is a 5.5% ABV India Pale Ale which makes extensive use of Galaxy hops, a variety prized for its tropical fruit flavours.
Trouble was founded in 2009, originally in Allenwood, Co. Kildare. 2013 will see the brewery move to a bigger premises closer to Dublin, in the village of Kill.
The new beer joins Ór golden ale and Dark Arts porter in the Trouble line-up and will initially be available in keg and cask formats, with a bottled version to follow later in the year.
Andrew

6015
"Give me one year" asks Shane Long, co-founder of The Franciscan Well. As the news officially broke last week regarding the Molson Coors buyout of the Well, speculation and opinion has been rife regarding what this means not only for the Well but also for Irish Craft Brewing.
Shane has been in the business longer than most. "It"s been 14 years" he says "I still remember the early days, sleeping in the back of my van before doing the deliveries up in Dublin or on floors of friends apartments." And Shane is deeply passionate about beer as anyone who knows him would agree. So why the sale to Molson Coors? "I needed to expand and I couldn't do it alone. I had demand for our beers that I couldn't fulfill."
Shane's need to expand came earlier in the year when he was given a very viable opportunity to increase his sales by exporting to America. "They [the new customer] came here last March because of the awards we had won and once they tasted the beer they brought me to New York to arrange an import agreement."
TheBeerNut

5481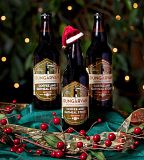 With the festive season upon us, several Irish microbreweries have released winter beers for the dark evenings.
For the second year in a row, Eight Degrees has a dark spiced beer called A Winter's Ale. This is 7.5% ABV and available bottled and on draught. The spices are a special blend provided by the Green Saffron spicery.
Also in its second year is Dungarvan Brewing Company's Coffee and Oatmeal Stout, this year showing off the brewery's new label design. Flahavan's has provided the oatmeal, and the coffee comes courtesy of Badger & Dodo roastery. It's 4.7% ABV and available in bottle and cask.
From Franciscan Well comes a very special Stout Aged in Jameson Whiskey Barrels. This is 7.8% ABV and available only in 1 litre bottles, though is expected to make an appearance on cask at the Franciscan Well Cask and Winter Ales Festival (15-17 February). The edition is limited to just 900 numbered bottles.
Christmas wouldn't be Christmas without White Gypsy's Yule Ól making an appearance. This dark red ale is unspiced but shows lots of warming depth. 6% ABV and available bottled.
Exclusively on draught there's Carlow Brewing Company's Winter Star. In place of the more typical Christmas spices, this 5% ABV ruby ale has coconut and orange peel added for a completely unique flavour profile.
Finally, Whitewater Brewery has launched its Christmas seasonal Sanity Claus in bottles this year, for the first time. This is 4.5% ABV and brewed with a small addition of cinnamon and nutmeg to add a little festive spirit.
All are available wherever good beer is sold in Ireland. Be warned, however, that stocks are strictly limited and supplies of some may be running short already.