Andrew

6224
It's that time of the year when the evenings get shorter and the days get colder. Which means it's time for the winter seasonals/Christmas beers. There's been a massive increase this year with nearly half the Irish microbreweries producing at least one seasonal, and in some cases, two and even three. The styles are almost all malt-forward as expected for the time of year, with a couple of surprises. Red IPAs, Spiced Ryes and of course, the Coffee Porter/Stouts are all well represented. So, get tracking…
5 Lamps: Glendalough Barrel Aged Red, Porter and Dark IPA.

9 White Deer: Cask specials only- Black Lightning and Lon Dubh.

Beoir Chorca Dhuibhne: Festive Imperial Black Ale and Winter Ale.

Black Donkey: Dark Biere de Garde.

Blacks of Kinsale: "Worlds End" Imperial Chocolate Vanilla Stout.

Bo Bristle: TBA.

Boundary Brewing: Chili Porter and Coconut Lemon Berlinerweisse.

Brehon: Shanco Duhb relaunch.

Brú: "Darkside" Saison and 400 Day Barrel Aged Stout (in bottles).

Carlow: "Winter Star" Spiced Rye Ale

Carrig: Barrel Aged Black IPA and Red IPA.

Donegal: Expresso Stout.

Dungarvan: Coffee and Oatmeal Stout

Eight Degrees: "Snow Eater" Red IPA, "Signal" Belgium Stout and "Mór" Barleywine.

Elbow Lane: Vienna Lager.

Farmageddon: Winter IPA.

Galway Bay: "Space Suit" Dark Saison and "Diving Bell" Salted Caramel Wee Heavy.

Hooker: 3 beers TBA.

Independent: Bourbon Barrel Aged Barleywine and Brandy Barrel Aged Barleywine.

Inishmacsaint: Collaboration with Pokertree- TBA.

Jack Cody's: "Curly Hole" Samhain Ale.

JW Sweetman: TBA.

Killarney Brewing: TBA.

Kinnegar: "Maddyroe" Red IPA and "Long Tongue" Winter Ale.

Manor Brewing: TBA.

Mescan: "Beoir Na Nollaig" Red Tripel.

Metalman: "Orange Is The New Black" Orange Dark Ale.

Mountain Man: Cask Specials.

Mourne Mountain: TBA.

Northbound Brewery: Smoked Wheat Ale.

O Brother: Coffee Porter.

Otter Bank: Dark Sour.

Pokertree: Collaboration With Inisgmacsaint- TBA.

Porterhouse: TBA.

Radik Ale: TBA.

Rascal: Double Red IPA.

Simon Lamberts and Sons: Pinot Noir Barrel Aged Barleywine and Chardonnay Barrel Aged Belgium Brown.

St Mel's Brewing Company: Raisin and Oatmeal Stout.

Stone Barrel: Coffee and Oatmeal Stout and Oatmeal Amber.

Third Circle: Rye Stout.

Torc Brewing: Smoked German Ale.

Trouble Brewing: "Dash Away" Cherry Stout

White Gypsy: Yule Ol.

White Hag: Christmas Ale.

Wicklow Wolf: "A Beer Called Rwanda" Coffee Brown Ale.

Wild Bat: TBA.

Wood Key Brewery: Spiced Rye and Black Treacle Ale.
Mark Hilliard - Beoir PRO

11821
Currently there are 40 independent Irish craft brewery's across the island that brew vegan/vegetarian friendly beer. With a massive range of beers and styles there is certainly something for everyone.
This list will be added to over the coming days.
1. St.Mel's Brewing Company
2. DungarvanBrewing Company
3. Western Herd
4. Simon Lambert & Sons
5. RyeRiver (McGargles, Grafters, Solas, Crafty)
6. Brother Brewing
7. Galway Bay Brewery*
8. O'Hara's
9. Wild Bat
10. Black Donkey
11. N17
12. Independent Brewing Company
13. Wood Key Brewing
14. 8 Degrees Brewing
15. kelly's Mountain Brew
16. Galway Hooker Brewery
17. 9 White Deer Brewery*
18. Mountain Man Brewing
19. Radikale ale
20. Drew Fox
21. Mescan Brewery
22. Barrelhead Brewery
23. JW Sweetman
24. Boundary Brewing
25. Otter Bank Brewing
26. Blacks Brewery *
27. Pokertree
28. Treaty City Brewing
29. Rising Sons Brewery
30. Walled City Brewery
31. Metalman
32. Ards Brewing
33. West Mayo Brewery
34. Four Provinces
35. Elbow Lane
36. Donegal Brewing Company
37. White Gypsy
38. Munster Brewery
39. Torc Brewing.
40. Manor Brewing
*Exception GBB: Buried at Sea, contains lactose.
*Exception 9 white Deer: Cask ale
*Exception Blacks: Some old bottles
TheBeerNut

6239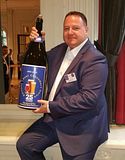 On Wednesday 21 October hundreds of beer drinkers from across Europe raised a glass in Brussels to celebrate of 25 years of EBCU (European Beer Consumers Union) campaigning success.
The celebration took place at De Markten, where members were able to sample beers hand delivered from across Europe, showing the great diversity of beer styles and traditions existing in different countries. Members of the European Parliament, European Commission and European Economic and Social Committee officials were in attendance.
Beoir was represented by Chairman Reuben Gray (pictured) and Irish brewing by Carlow Brewing Company, which kindly donated a range of its beers to the event.
The new EBCU executive was welcomed in on the night, which will include Carl Kins from Belgium, Bo Jensen from Denmark, Tim Webb from the UK, Jan Lichota from Poland and Henri Reuchlin from The Netherlands. The new executive will be focusing EBCU's campaigning efforts on promoting transparency in consumer information of beer and for a fair taxation system for beer across the European Union.
EBCU Chairman Henri Reuchlin says: "The 25th anniversary of the EBCU marks an important milestone in our history. We have more support than ever before from European countries, demonstrating the real demand for a pan-European voice for beer drinkers. We look forward to working closely with the European institutions and our member countries to support the beer industry across Europe."
Mark Hilliard - Beoir PRO

6311
Beoir very much welcomes the announcement at Budget 2016 that the excise relief for microbreweries will now be available upfront. This will improve the cash flow for these small and medium businesses which we hope in turn will help further develop this value sector of the Irish economy. For the second year running, the current Government has helped incentivise small indigenous beer producers which they have recognised as an important and growing part of the Irish agriculture and food sector.
We would have very much liked to see movement in the excise relief for Irish artisanal cider makers in line with that of the microbreweries, but we are heartened to see the government again recognises the role microbreweries play in the Irish economy.