Corkboy1

8082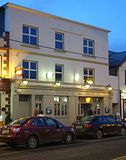 Flushed with success from our first meeting in Connaught we spent some time talking to the nice people in The Oslo about a tour of the brewing operation and a chance to meet the brewer. It wasn't long before they put us in contact with John Smits their brewer and we settled on a date. Initial expectations were for a group of about 10 to 12 and we thought that would be on the optimistic side. However, with a little help from our friends at Home Brew West, the numbers soon swelled to over 20 and we began to panic. A quick call to John dispelled all fears as we hatched a plan for a number of smaller tours to help with the numbers.
Séan Billings

7169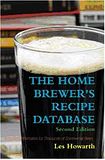 Despite its name, this book by ICB's own Les Howarth is not a recipe book. It says as much on the back cover: "It is a database of ingredient information that should assist the home or craft brewer in creating their own recipes in order to replicate commercial beers…"
What Les has done here is trawl through all of the recipe books and podcasts you might look to if you want to clone a commercial beer and extracted the ingredient information. He is completely up front about this and lists the source of the ingredient information with every beer listed.
Beoir

5603
Irish Craft Brewer is pleased to announce the establishment of Beoir, a consumers' lobby for beer drinkers on the island of Ireland, and for all who seek to improve the variety and quality of beer available here. The new group will concentrate on the promotion of beer and cider from Ireland's micro-producers, as well as encouraging quality imports, and continuning Irish Craft Brewer's work in providing a forum -- both in real-life and online -- for the country's amateur craft brewers.
It will take time to build our momentum into something more than the ad hoc group we currently have, but the aim is very much to become an organisation as active in publishing, managing events and being visible in the media as CAMRA in the UK, or the many beer consumers' unions active on the continent and beyond.
At the moment there is a draft Constitution available for members to debate, and the intention is to ratify it on 1st July, when Beoir will officially come into being.
If you'd like to be part of this next stage of the revolution in Irish beer, annual membership costs €10 and more information on the group and how to join may be found here.
a_friend_in_mead

9537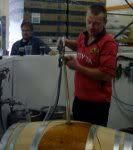 Cuilan from White Gypsy is not what I would picture as a champion of fair-trade eco-aware local produce. But behind the Munster jersey is a very clear vision of where Irish brewing should go. And I mean vision. Here is a brewery that avoids the target-marketed focus-grouped inanity that infests our age. White Gypsy's stated aims are for a good beer brewed with local ingredients bought at a fair price and drank by people who actually care what they drink.