TheBeerNut

6399
No beer aficionado needs to be told what India Pale Ale is -- the style is brewed anywhere there's a market of drinkers who really care about what's in the glass in front of them. American craft brewers have made it their own, with their signature bitter fruity hops and ever-increasing levels of alcohol. And the story of the style, how it was exported from Britain to India, maturing on the long voyage around the Cape, is inscribed on almost every IPA label. In Hops & Glory, Pete Brown not only gives the full intriguing story of India Pale Ale and its place in the building of the British Empire, but also sets out to recreate the journey from Burton-on-Trent to Calcutta with a cask of authentic IPA.

The book divides roughly between these two stories: on the one hand we have the history of the British in India, how their beer became an intrinsic part of their lifestyle. And on the other there's the tale of what happens when one man decides in the pub that he will take some IPA from the brewery in Burton to India by sea, to taste firsthand the effect of the journey on the beer. It is, in many ways, a book of discoveries. Pete gives us never-before-seen insights into British beer history and the mythology around IPA, and tells us candidly the things he discovers about himself on his epic voyage, including just what it's like to get cabin fever and skirt the edges of sanity.
DrJohn

7060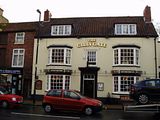 I recently had the opportunity to spend a day or so wandering the streets of the city of York. What a treat it turned out to be, and I discovered for myself that York is a fine destination for great pubs with a range of fine ales.
My first port of call (at 11 am on a November Monday morning) was the Gillygate (the pub with the same name as the street it lives on). I gathered my thoughts over a nice pint of Black Sheep and made a rough plan for the rest of the day. I also perused my CAMRA mini guide to York city. It was the only map of the city that I had, but contained all the information I needed! The only thing I really decided on though was not to visit the York Brewery, simply because of the time factor. There are four tour times per day and the times didn't really suit.