Beer of the Year 2012
Category: News
Published on Wednesday, 15 February 2012 14:38
Written by TheBeerNut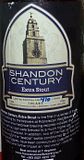 Voting has closed on the 2012 Beoir Beer of the Year Awards.
We are delighted to announce that Shandon Century Extra Stout from the Franciscan Well Brewery in Cork City has been chosen as the Irish beer drinkers' favourite beer for this year.
Second place was awarded to Windjammer, an amber ale produced by Metalman Brewing of Waterford, and third place also went to Metalman for Metalman Pale Ale.
Congratulations to the winners and thanks to everyone who took part in the voting.
Pre-Budget Submission 2011
Category: News
Published on Wednesday, 30 November 2011 11:43
Written by TheBeerNut
In keeping with its remit to support native Irish microbreweries and defend drinkers' rights, Beoir has made a pre-Budget submission to the Department of Finance and Revenue Commissioners.
The document sets out a three-point plan for encouraging artisan brewing in Ireland and making it more accessible for customers:
An allowance for producers to sell directly to the public at their premises without requiring an additional off-sales licence
Permission for producers to sell directly at Local Authority-approved farmers' markets
Reform of the bond required by Revenue of microbreweries
The full text of the submission is available for download here.
Troublemaker 2 - This Time It's Beoir...
Category: News
Published on Wednesday, 02 November 2011 19:18
Written by Paul O'Connor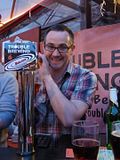 After a good four and a half minutes of soul searching, we made the momentous decision to revisit the Troublemaker competition for 2012. We've also made a few tweaks to the rules and regulations after feedback from the inaugural competition (winner Rossa O'Neill, pictured right). This time round a greater weight will be placed on the taste, rather than the practicalities of brewing the beer.
We'll also endeavour to provide feedback on each of the beers after the judging night, rather than just the final score, which was one of the main items that was requested as an improvement.
And since the resulting brew will be a once off we're looking to make a non-Reinheitsgebot beer, though this is by no means essential, so brewers are encouraged to brew a beer using ingredients other than water, barley and hops. (Though using yeast as that radical non-compliant element won't win any friends nor influence people!) Anyway just to restate the rules...
Irish Craft Beerfest 2011
Category: Festivals/Events
Published on Sunday, 09 October 2011 10:14
Written by Andrew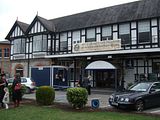 Friday: It starts with a trade session. A good number of people come through the door. Many are pubs looking for new options for their customers. They've picked the right place to come. With the major exceptions of Hilden, Dingle and Clanconnel, almost all the Irish Craft Breweries are here. Hilden, just having finished their Hildenfest have run out of beer; Dingle Brewing are at the Dingle Foodfest and don't have enough people to cover both festivals; Clanconnel are moving into their new premises. So all can be forgiven for not making it.
4pm, the doors open to the general public. As can be expected the footfall was a little slow to start but by 8 o'clock the hall was well filled. And a word about the hall. It's a great venue with a lot of character: old Victorian Ironwork posts which break the space up nicely. The breweries are placed on both sides of the hall and all of them have bars set up. Attendance was decent; though it was competing with Culture Night, the kickoff of Octoberfest and the Arthur's Day hangover. Talking to the brewers afterwards, they certainly seemed happy with the footfall. The comedian Joe Rooney was a no show (he demanded more money at the last minute) but the final set from Jerry Fish was fantastic - worth the entry price alone.