Home
Category: News
Published on Wednesday, 25 September 2013 09:13
Written by TheBeerNut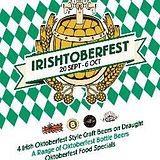 Oktoberfest season is upon us once again, the annual celebration of strong Bavarian lager served in one litre mugs. It's the time of year when you can expect to find even the most traditional of Irish pubs decked out in blue and white and flying the flags of either Paulaner or Erdinger.
Usually, The Bull & Castle in Dublin is no exception to this, but they've taken a different tack for 2013. From 20th September through to 6th October the Beer Hall will be celebrating its first "Irishtoberfest", showcasing limited edition beers from Irish microbreweries.
The line-up includes Eight Degrees Amber Ella, one of the best-received beers at the Irish Craft Beer and Cider Festival earlier this month. Brand new specials include Smokescreen: a dark smoked ale from Metalman, and Fuzzy Logic: the first wheat beer by Trouble Brewing. If you simply must have a maßkrug of lager there's O'Hara's Helles and Eight Degrees Barefoot Bohemian Pilsner to quench your thirst.
Prost!
Category: General Articles
Published on Wednesday, 11 September 2013 11:42
Written by TheBeerNut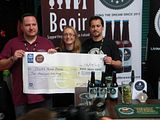 When Black's Kinsale Craft Brewery launched a crowd funding initiative on the Indiegogo platform it immediately captured the interest of Beoir members. Sam even adjusted the offer listing to allow those who just wanted to buy the exclusive beers he has planned.
But Beoir Chairman Reuben Gray noticed an opportunity for something bigger: at the bottom of the listings was the offer of a personalised batch of beer on the Kinsale pilot system: 200 bottles with a price tag of €1,000. Perhaps 20 of us could club together and commission a unique Beoir brew? It took just eight days to collect the necessary number of pledges, with some late joiners just missing the final places. Could we do it again?
A second round was opened and at this point Sam himself stepped in to sweeten the deal, offering a brew on his full-size brewkit and doubling the beer allocation for each pledger. This round took less than a week to fill up and on Sunday 8th September at the Irish Craft Beer and Cider Festival, Reuben presented Sam and Maudeline with a cheque for €2,000.
The beer is due to be brewed in early 2014 and the part of the batch not allocated to pledgers will be available to the public in a strictly limited edition (though the launch party has dibs on at least some of it). We're left with just one important question: what shall we brew?
The Black's Kinsale Craft Brewery Indiegogo campaign is 90% complete but there are still lots of great offers available to funders before the 15th September deadline. Take a look!
Category: News
Published on Monday, 02 September 2013 21:20
Written by TheBeerNut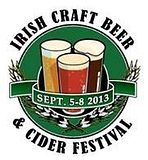 Ireland's biggest festival of craft beer returns to the RDS for a third year, expanding to a four-day event, beginning on Thursday 5th September and running through to Sunday 8th. The expansion of Ireland's beer scene is reflected in the line-up, with 22 Irish craft beer companies represented and over 100 beers available for tasting, including a large number of new and special editions. Expect new lagers from Whitewater and Trouble Brewing, the first barley wine from Carlow Brewing and a limited edition Amber Ale from Eight Degrees. Moonbeam from Metalman Brewing will be making its triumphant return for the autumn season and Galway Hooker will be debuting a coffee porter.
The festival will mark the first public appearance of Brú Brewery from Co. Meath. Other newcomers include Kinnegar, Donegal Brewing, Black's of Kinsale, Five Lamps, Galway Bay, JW Sweetman and Mountain Man. There will also be five artisan cider makers, two independent whiskey companies and a select range of imported beers. Accompaniment to the drinks will be provided by seven different food stalls and a sequence of live musical acts. Both the Ireland v. Sweden game on Friday and the hurling final on Sunday will be shown live.
There is no better opportunity in Dublin to meet Ireland's craft brewers and try Irish beers that can't be bought anywhere else. For complete information, see the festival website.
Beoir members get €5 off admission on production of a valid membership card.
Category: News
Published on Wednesday, 28 August 2013 11:10
Written by TheBeerNut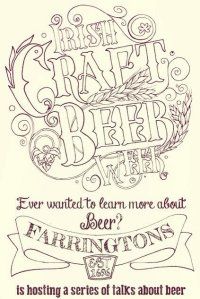 The week beginning Sunday 1st September is Irish Craft Beer Week, culminating in the biggest annual celebration of Irish craft beer, the All-Ireland Beer and Cider Festival at the RDS from Thursday 5th to Sunday 8th September.
Farrington's pub in Dublin's Temple Bar will be hosting a number of events in the early part of the week. On Monday at 6pm the National Homebrew Club will talk about brewing your own; on Tuesday at 6pm it's the turn of Ireland's only qualified beer sommelier Phil Tavey to share his knowledge; while on the Wednesday evening at 7pm the subject turns to whiskey and Irish craft distilling.
The sequence begins on Sunday 1st September at 4pm with Reuben, Andrew and John from Beoir talking about all aspects of the Irish craft beer scene -- where we are and how we got here.
Best of all, pints of Irish craft beer are on sale for €4.50 for the duration of the week.
Come along and say hi!