Home
Category: General Articles
Published on Sunday, 09 November 2014 13:48
Written by TheBeerNut
On the 14th and 15th of November Beoir will host a meeting of the European Beer Consumers Union for the first time. 30 delegates from eleven different countries across Europe will gather in Dublin for two days of debate and discussion covering a number issues of relevance to beer drinkers.
Among the topics is the current status of European Union Directive 1169/2011 concerning the information which should be made available to consumers on beer packaging. The EBCU has long deemed the current situation unsatisfactory, as producers are not obliged to list the ingredients of beer, nor the place of production. Both of these elements are essential if the consumer is to make a truly informed choice about the beer they drink.
Beoir wholeheartedly supports the EBCU's campaign to have ingredients and place of production made mandatory on beer labels, and salutes those Irish craft breweries who already have this information visible on their products.
The EBCU was founded in 1990 by three beer consumer organisations: CAMRA (UK), PINT (Netherlands) and Zythos (Belgium). It has since grown to thirteen member groups with a combined membership of over 200,000 people. Beoir is the newest member of the group, joining in 2012.  Two plenary meetings of the delegates are held every year.
The Dublin meeting will be the 50th since the EBCU's foundation and delegates will be visiting two of Dublin's independent breweries: The Porterhouse and JW Sweetman. Alfie Byrne's pub and L. Mulligan Grocer will also feature in the social programme for the weekend.
More information on the aims and work of the EBCU can be found on its website at www.ebcu.org.
Category: Reviews
Published on Sunday, 12 October 2014 10:50
Written by TheBeerNut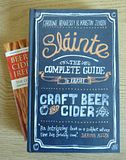 My review of Iorwerth Griffiths's small 2007 volume, The Complete Guide to Beer and Cider in Ireland, expressed the hope that growth in Ireland's craft beer scene would mean the next edition would be more of a coffee table size. A successor has finally been published and while it's not a large-format work it does share much in common with the glossy, image-rich, lifestyle publishing genre.
That's not to say it's all fluff, however. Far from it. Caroline Hennessy and Kristen Jensen have meticulously researched the current state of the Irish beer and cider scene and drawn upon a wealth of sources, historical, zythological and gastronomical to create this compact and accessible guide.
Category: General Articles
Published on Thursday, 11 September 2014 16:07
Written by Saruman
That's right, Beoir now has a YouTube Channel called BeoirTV. Get on over and take a look. If you would like to produce a video for BeoirTV, contact This email address is being protected from spambots. You need JavaScript enabled to view it. for guidelines/logo use.
Category: Articles
Published on Friday, 05 September 2014 13:55
Written by Saruman
For a small (but growing) consumer organisation made up of unpaid volunteers, we can count some very talented people among our ranks. A number of well-known writers & journalists, web/app developers, IT people, artists, photographers and now an independent film maker.
Beoir member Sean Monaghan (tallstorymedia) is an independent film maker as well as author and photographer. He writes A Taste of Ireland, a site about food and beer. Among the films that Sean has produced, one stands out as our sort of thing. It's called Beoir: A Tale of Irish Craft Ale.
The 23 minute documentary is beautifully shot and showcases the beauty of Ireland's landscape and also the energy, enthusiasm and creativity of some of our independent breweries. The Donegal brewing company, Innishmacsaint brewing company, Mescan brewing company, Kinnegar brewing company and Poker Tree brewing company all feature in here.
The film has been selected as part of the Dublin International short film and music festival for 2014. The festival will take place from the 3rd to the 5th of October 2014.
I would encourage all members to take a look and spread the word about the film. If you are attending the Irish Craft beer & Cider Festival this weekend, the opening 3 minutes are on the looping video I put together to give some information about Beoir, NHC and the Dublin Ladies Craft Beer Society.
Please enjoy the film and make sure to have sound as the soundtrack is excellent and you need to hear the stories being told by the brewers. It can be discussed further here.