A Friend in Mead

9239
TheBeerNut scuttles past me whispering 'cops' and I'm 16 again, hanging round with my mates in a world where having a beer is an adventure. I was just about to open the first bottle for an al fresco taste test when the guy who minds the park came in to close for the evening. I hastily closed up the bag and scurried off. Why were a bunch of adults being chased around the parks of Dublin? I should probably explain the original post that started this all.


Jake Spruit

7057
If Carlsberg were in charge of tourism for the city of Copenhagen, "Probably Eastern Denmark's Best Beer Destination" might be the slogan that they would choose to advertise to the rest of the world. Even though Carlsberg (and Tuborg) may be one of the first things that comes to people's minds when the city of Copenhagen comes up, luckily there is a lot more than Danish lager to offer a beer tourist on a trip to the capital of Denmark. I should issue this disclaimer before I go any further though: although I've spent the last five years living in Dublin, I grew up in western Michigan drinking Midwest craft beers such as Bell's and Founder's, am married to a Danish woman, and have studied, visited and worked in Copenhagen here and there over the past ten years. So basically, in this article, I'll compare Copenhagen to Dublin and I'm partial to hoppy Indian/American Pale Ales that are fairly popular among Danish craft breweries.
TheBeerNut

6134

On Saturday April 3rd, the fourth and final Irish Craft Brewer Beer of the Year Awards were announced at the Franciscan Well Easter Beer Festival in Cork. As with 2009, voting had been open to all members of the community and every beer brewed and available on the island of Ireland was eligible for a prize. An additional prize was also awarded for a beer of particular merit which was available at the festival but not normally on sale elsewhere.
The winners were an interesting mix of cask, keg and bottled beers and represented all four provinces of the island.
Corkboy1

5976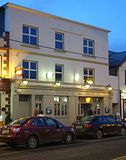 Flushed with success from our first meeting in Connaught we spent some time talking to the nice people in The Oslo about a tour of the brewing operation and a chance to meet the brewer. It wasn't long before they put us in contact with John Smits their brewer and we settled on a date. Initial expectations were for a group of about 10 to 12 and we thought that would be on the optimistic side. However, with a little help from our friends at Home Brew West, the numbers soon swelled to over 20 and we began to panic. A quick call to John dispelled all fears as we hatched a plan for a number of smaller tours to help with the numbers.