Trouble Brewing launched their Trouble Maker brewing competition last summer with the closing date for entries at the end of October. All entries were judged by a panel of experts and the winning beer was to be recreated on a commercial scale. Trouble Makers - The Final Showdown took place on November 15, 2010 in the Bull and Castle. In a huge stroke of luck I won and became the Champion Homebrewer of Ireland (I'm not sure who coined that but it's something that doesn't sit well with me). Anyway I was shocked to hear I had won and delighted the panel enjoyed my beer, and the thought of it getting to a wider audience really excited me.

On April 3rd 2011 I went to Trouble Brewing to brew the commercial batch. Here is how I got on…

Details

Written by

Rossa O'Neill

Category: General Articles
Hits: 7055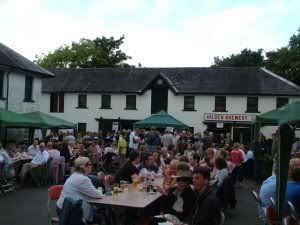 Coinciding with the growing number of microbreweries in Ireland, and the pubs that serve their beers, there's also an increasing number of special events around the country where Irish craft beer can be tried. Often, the brewers use these to launch special edition beers that can't be had anywhere else.
Several of the specialist beer pubs also run events during the year: both the Porterhouse and Bull & Castle have special Irish beer promotions in March, plus an Oktoberfest in the autumn, as does the Bierhaus in Cork. You'll also find Irish breweries represented at food and drink events like the Waterford Festival of Food (14-17 April) and the Belfast Christmas Market (19 November - 18 December [TBC]). This article, however, is about the full-sized festivals where you can have a day out and sample the best our native brewing industry has to offer.
Details

Written by

TheBeerNut

Category: Festivals/Events
Hits: 7922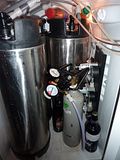 There is uncertainty in the unknown. Kegging a beer sounds easy but to the beginner kegger it can be a little mind-boggling. So many questions come to mind from what gear is needed to how to operate your chosen set up. Well, as they say, "Superior preparation rarely tastes defeat", so here is my guide.
A basic setup requires the following:
Cornelius keg
Gas regulator
Gas tank
Beer/Gas line and fittings
Disconnects
Tap
No 22 Combination Spanner
Adjustable Spanner
Details

Written by

Rossa O'Neill

Category: Conditioning and Storing
Hits: 10404
For the amateur brewer in a hurry, we present seven important ready-reckoner tables, covering attenuation, alcohol content, hydrometer correction and yeast pitching rates.
All files are in PDF format.
The tables were produced using the online calculators at Pint.com.au and MrMalty.com.
Details

Written by

dhat

Category: Basics
Hits: 11652
Sunday, February 10, 2019
News
1834
While the Irish brewing scene hasn't grown as much in the last twelve months as it has in recent years, the task of picking a best beer from the hundred or so operational breweries has not got any easier. In this the eighth edition of the competition, 73 different beers received a preference from a Beoir member, cutting across styles, strengths and county of origin. As always, every beer brewed on the island and available in the previous year was eligible and voting was open to current Beoir members. When all the counting up was complete, three winning beers and a winning brewery were selected. And they were:
Sunday, August 05, 2018
Reviews
3231
Veteran beer writer Tim Webb has been publishing a guide to Belgian beer and pubs since 1992. This and the previous edition in 2014 were co-edited by the Europe-based American writer Joe Stange. A short essay by Webb at the front of the book charts the origin of the guide and announces his retirement from it. That means the next one will have a different feel to the current edition, because this is not simply a list of Belgian pubs and breweries, but rather a series of personal observations. This unusual approach really captures the idiosyncracies of Belgium's beer culture.