Barry Masterson

5565
Earlier this year I made my first trip to Brussels. I didn't have a guidebook, although fellow ICBers had made some great suggestions that I had fully intended following up. As it turns out, I ended up having the next best thing to a guide book: Joe Stange. Joe agreed to meet me while he was literally in the process of taking photos to finish the book he co-wrote with Belgian brewer Yvan de Baets, Around Brussels in 80 Beers. Joe took me on a whirlwind tour of some of the places the book mentions, so I thought I'd be well prepared to use these visits as a benchmark for what is described in the book.
Barry Masterson

5931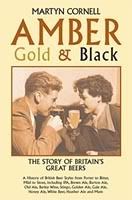 Amber Gold & Black - The Story of Britain's Great Beers is a unique kind of book. Written by Martyn Cornell, author of Beer: The Story of the Pint and beer writer of the year in 2003, Amber Gold & Black is published only in electronic format. As a result it is a low cost publication at £5 for a copy. A very cheap purchase considering the years of research that must have gone into creating this 233 page work.
Cornell's aim is to explore the true history of a range of beer types, including bitter, mild, IPA, porter, golden ales, wheat beer, barley wine, heather ale; the contents list 16 families of beer all with a distinct British history. Each chapter deals with its subject in a similar manner. Reaching back to the earliest references he could find, Cornell brings the reader on a journey through time, with anecdotes, statistics, lists of breweries, from the earliest references up to the present.
TheBeerNut

6139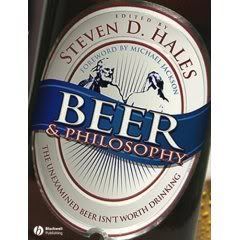 This collection of essays, sub-titled, "the unexamined beer isn't worth drinking", interprets its remit in a variety of ways. The great philosophers had very little to say on the subject of beer and there's only so many times one can make a pun about alcohol measured in degrees Plato -- here it's done early to have it out of the way. Some articles are simply about the brewing world and beer in general, given a slight philosophical twist. Many others are undergraduate philosophy lectures, peppered with examples from the beer world by way of illustration. A handful, however, undertake a fully philosophical examination of the enjoyment of beer. The quality is mixed, but the fifteen essays are at least short and if the reader is bored with the current one, the next isn't too far away. To assist further, every page is illustrated with a pint of beer in the corner, full at the start of each essay and gradually emptying towards the end. Not only does the book tell you how far you still have to read, but it also indicates what stage of your drink you should be at, assuming one pint per chapter. It is, to my knowledge, the only philosophy textbook to do this.


TheBeerNut

11973
It should be a matter for public outcry that the complete guide to beer and cider in Ireland is pocket-sized. Neither is the completeness a publisher's idle boast: this densely packed little book covers everything from the extinct micros like Balbriggan and DBC, to those just getting going, like Shelta and Bluestack. You can find out how long it takes to mash a batch of Murphy's and which came first: Stag or Ritz. And there's more...
Read more: Review: Beer & Cider in Ireland: The Complete Guide