Beoir Cask Competition 2017
Category: Festivals/Events
Published on Monday, 30 January 2017 17:19
Written by Reuben Gray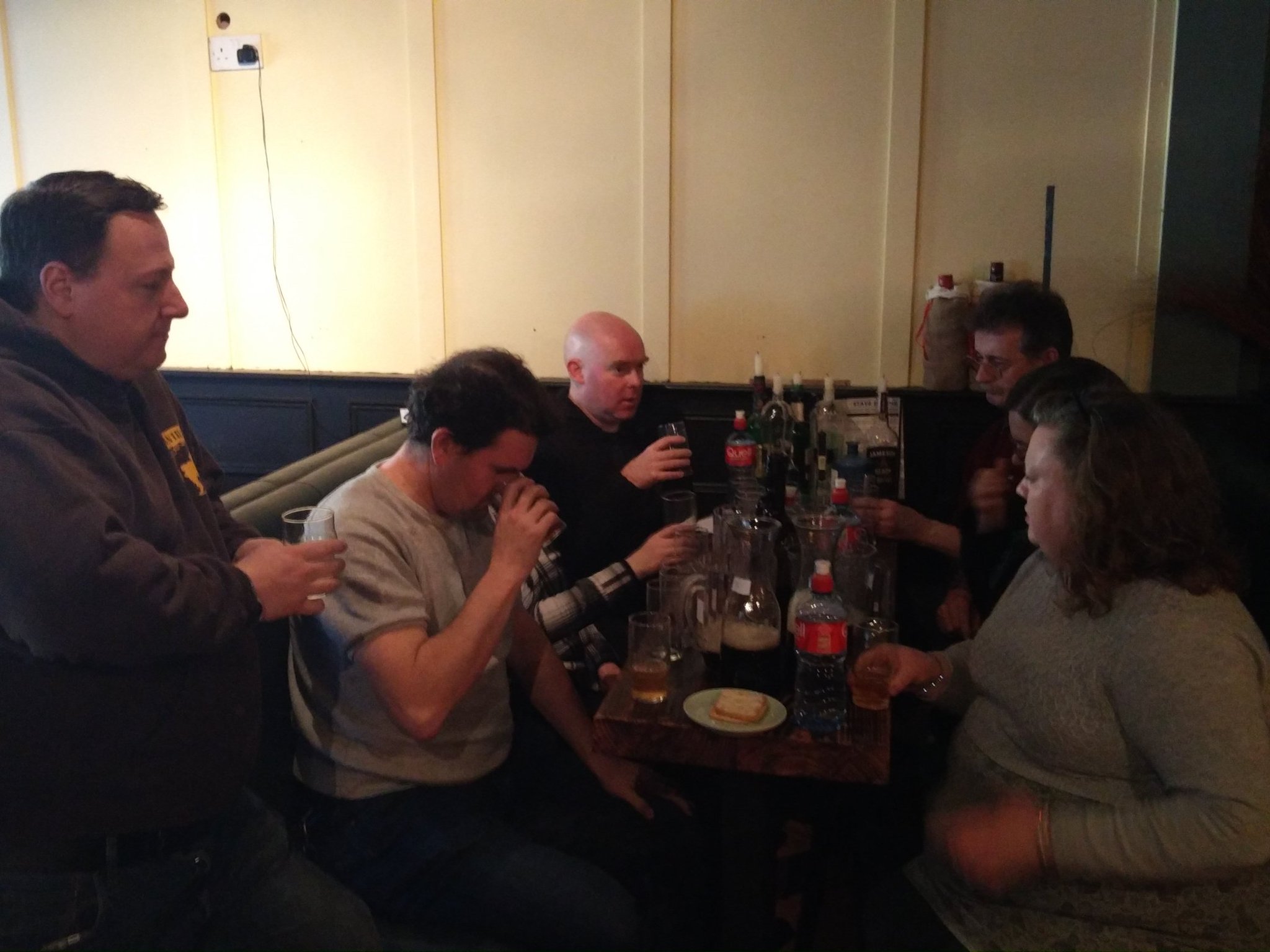 The 2017 Cask Ale & Experimental Brews festival over the weekend seemed like it had the largest number of cask beers available compared to previous years. In fact, there were only three kegged options on the main bar and about 23 casks on at any one time. There were further kegged Franciscan Well beers available inside at the regular bar.
We had about 40 beers to get through with 7 judges. Beoir Treasurer: John Stephens did most of the running around/beer collecting while Cider Officer & Regional Rep: Steve Lamond ran the competition. This was the second year of the Beoir Cask Competition. The beers judged were those available on the day of judging along with a number rescued in growlers before they ran out during the rest of the week. A number of beers were not judged on Saturday as they only went on after the competition came to a close.
Best in category 2017
Stout/ Porter: Brehon - Shanco Dubh Barrel-Aged Porter

Pale: Franciscan Well - Chieftain IPA

Red/ Amber/ Dungarvan - Mild
Specialty: YellowBelly - The Passion Lager

Best Overall 2017
3rd Dungarvan - Dark Mild
2nd Brehon - Shanco Dubh Barrel-Aged Porter

1st YellowBelly - The Passion Lager

For completeness, here are the winners from 2016
Best Lager - YellowBelly Rosehip Schwartz
Best "Pale" - West Cork Roaring Ruby
Best Stout - Black's World's End
Best Specialty - Otterbank Pine Needle Berlinner Weisse (since named "The Vikings are Coming")
3rd Otterbank - Pine Needle Berlinner Weisse (now branded YellowBelly "The Vikings are Coming")
2nd Black's - World's End
1st West Cork - Roaring Ruby
You will see a difference in the categories between 2016 and 2017. There were not enough lagers to form a category so we placed them in specialty as they were specialty beers anyway. We had enough red/ambers to give them their own category this year.
Thanks to the Franciscan Well for hosting and to the judges and stewards who gave up their time on the day.
Irish Craft Beer Festival 2016
Category: Festivals/Events
Published on Thursday, 25 August 2016 15:12
Written by Saruman
The Irish Craft Beer Festival is back this September and is bigger than ever with over 50 brewers, cideries and distillers.
As usual, Beoir members receive a 50% entry discount at the door with a valid, in date membership card. If you want to try and win tickets to the event, keep an eye on the social media. The Beoir Twitter and Beoir Facebook accounts will have a competition each weekend for a pair of tickets. That's a chance to win on both Facebook and Twitter so keep an eye out on Friday to Sunday for details with the winner on each platform announced on Monday. We will run the competition this weekend and next weekend.

If you wish to volunteer, check the Beoir Member forum for details.
Tickets are available here for non Beoir members. Beoir members wanting to avail of the discount, do so at the door.
Beoir Champion Beer of Ireland 2016 - Killarney Beer Awards
Category: Festivals/Events
Published on Tuesday, 31 May 2016 15:30
Written by Reuben Gray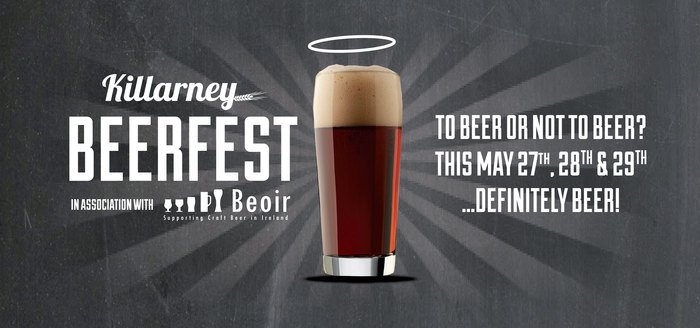 Here are the results of the Killarney Beer Awards for 2016. We had 165 entries which was more than double compared to last year.
Judging started on Saturday at 11am and the final round was completed by 7pm. A massive thanks to Kellie Dawson and her team of stewards who worked the mamoth task of preparing the bottles on Friday. Kellie worked from 10am until 10pm on Friday categorising bottles. Unfortunately, a lot of time was wasted due to many entrants either not covering up their labels correctly or else not bothering to cover them up at all.
We will have to be more strict about entries next year.
Images from the event can be found on the Beoir Flickr page. Direct link here.
The scores from the first round of judging are being compiled and will be sent to breweries along with their feedback.
Beoir Champion Beer of Ireland 2016:

Kinnegar Brewing, Flying Saucer
First Runner Up:

Trouble Brewing, Stakeout
Second Runner Up:

The White Hag, Púca
Yellowbelly Brewery– Yellow Belly, American Pale Ale

Killarney Brewing – Killarney,

Scarlet Pimpernel IPA

Farmageddon Brewing Co-Op, Farmageddon IPA
Killarney Brewing Company, Spailpín Saison

O Brother Brewing, Huck Saison

Rising Sons Brewery, Mayhem
Yellowbelly Brewery, Fierce Mild

JJ's Craft, Bills Red Ale

Brehon Brewhouse, Killanney Red
Specially Commended: Two Sisters – Brigid's Ale
Specially Commended: O Brother – The Fixer
St Mels Brewing, Springbock

Trouble Brewing, Kill Lager

Manor Brewing, Mont Irish Mountain Beer
Specially Commended: Rising Sons – Sunbeam
Kinnegar Brewing, Flying Saucer

The White Hag Brewery, Black Boar

Trouble Brewing. Dark Arts
Trouble Brewing, Stakeout

Kinnegar Brewing, White Rabbit

Hillstown Brewery, The Goat's Butt
Yellowbelly Brewing, The Passion Brewing

The Porterhouse Brewing Company, Louder Barley Wine

Rascal's, Ginger Porter
Specially Commended: White Hag – Barrel-Aged Black Boar
Sour Beer
The White Hag Brewery, The Púca Dry Hopped Lemon Sour

Otterbank Brewing, This is Berlin / Die Wikinger Kommen

Torc Brewing Company, Anything Gose
Stonewell Cider – Esterre Sparkling Prestige Applewine

Stonewell Cider – Stonewell Dry Cider New World Cider

Stonewell Cider – Stonewell Medium Cider New World Cider
Autumn at The Bull and Castle
Category: Festivals/Events
Published on Wednesday, 09 September 2015 21:42
Written by TheBeerNut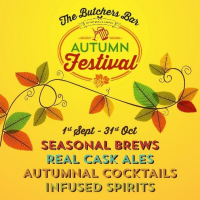 The Bull & Castle in Dublin is running a two-month long autumn festival for all of September and October. A range of special and seasonal beers will be available on rotation during the event including, appropriately enough, Eight Degrees Ochtoberfest Bock, one of the stars of the 2015 Irish Craft Beer Festival at the RDS. There will also be a new beer from local outfit Five Lamps, a Dark IPA of 6.9% ABV.
And there'll be a selection of infused spirits, cocktails and something called an Orange & Nutmeg Bourbon Hot Chocolate. BUT the real action is at the handpump. On the cask roster is:
Rascal's Wunderbar German IPA (6% ABV)
Rascal's Big Hop Red (5% ABV)
Dungarvan Seaweed Saison (6.5% ABV)
The latter of these, a collaboration brew with Norwegian craft beer pioneers Nøgne Ø, went down a storm at the RDS and has been in very short supply around the country. A cask in Dublin is a coup; €4.50 a pint makes it unmissable.
All beers are available for a limited time while stocks last. Click here to see the full festival menu and keep an eye on the Bull & Castle's Twitter and Facebook for updates on what's on when.