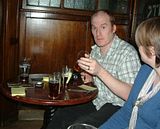 It's a style that is quintessentially ours, yet is recently evolved from a foreign progenitor. It has been a mainstay of dumbed-down Irish macrobeer for decades, yet has seen a revival at the hands of newer craft breweries. Just what is the story with Irish Red Ale?
Late last year, a small group of us gathered in the Dublin pub with the best selection of reds, plus one British keg bitter, to find out via blind tasting if the microbreweries really are doing a better job, and if the Irish Sea really does mark the boundary of the style.
Our timing was perhaps unfortunate. We had missed the availability of Beamish Red by about a year, and both Dungarvan's Copper Coast and Clanconnel McGrath's Red were still some months away. The field in O'Neill's of Suffolk Street on the day were:
Bass: a keg ale brewed in the UK which does not claim any Irish heritage.
Kilkenny: the only nitrogenated red ale available.
O'Hara's Red: established craft Irish red, well known from the bottle, but presented here in rarer draught form.
Rebel Red: Franciscan Well's craft red, of a similar vintage to O'Hara's.
Smithwick's: the genre-defining Irish red from Diageo
Prior to the tasting, drinkers were asked to name the reds they believed to be their favourites. These came out as:
a_friend_in_mead: O'Hara's

bog_myrtle: Rebel Red

MrsBeerNut: O'Hara's

sbillings: Rebel Red

TheBeerNut: O'Hara's
And so the tasting began. As with the previous tasting of stouts at O'Neill's we set up shop in the snug so half-pints could be purchased and arranged in secret on the other side of the screen. As before, the staff were bemused but very helpful throughout.

No-one had made the claim that Irish Red was the most awe-inspiring or distinctive of styles, so deliberations were long. The final results showing each drinker's guesses and how they rated the beers in order of preference (1 being the favourite) are like this:
| | | | | | |
| --- | --- | --- | --- | --- | --- |
| | Bass | Kilkenny | O'Hara's | Rebel Red | Smithwick's |
| a_friend_in_mead | Smithwick's - 3 | Kilkenny - 5 | O'Hara's - 2 | Rebel Red - 1 | Bass - 4 |
| bog_myrtle | Smithwick's - 3 | Kilkenny - 4 | O'Hara's - 1 | Rebel Red - 2 | Bass - 5 |
| MrsBeerNut | Bass - 4 | Kilkenny - 3 | O'Hara's - 1 | Rebel Red - 2 | Smithwick's - 5 |
| sbillings | S'wick's or Bass - 3 | Kilkenny - 5 | Rebel Red - 1 | O'Hara's - 2 | S'wick's or Bass - 4 |
| TheBeerNut | Bass - 4 | Kilkenny - 5 | O'Hara's - 1 | Rebel Red - 2 | Smithwick's - 3 |

The first thing we've proved is that there really really is a difference between Irish red brewed by a microbrewery and one made for the mass market. O'Hara's and Rebel took all of the first and second places between them, with O'Hara's edging it in the popularity stakes. Notably, both of our professed Rebel Red fans underwent a conversion to O'Hara's, with just a_friend_in_mead turning the other way.


The quality gulf between micro and macro is even more apparent from the tasting notes submitted. The caramel and hop character of Rebel and O'Hara's is remarked upon several times, while there was a struggle to find any distinguishing features in Bass and Smithwick's: the word "nothing" is used by two panellists in describing how Smithwick's tastes. Wateriness and metallic off-flavours are also remarked upon for all three industrial beers.

The second proven thesis from the evening's tippling is that Irish Red is not a real beer style. On the night, nobody was confident about which was Smithwick's and which was Bass, even though one is supposedly an Irish "red ale" and the other a British "keg bitter". Kilkenny was easily spotted since it had a nitro head, but had John Smith's or Tetley's Smooth been in the mix, I think there would have been some contention. Likewise there was no way either craft beer was going to be mistaken for a mass-produced ale like Bass, but a quality British red keg ale -- Brewdog 5am Saint, for instance -- would, I believe, have muddied the water considerably. Until further tests are carried out, I think my hypothesis that "Irish Red" is simply keg bitter stands.

Thanks to all the volunteers on the night, and apologies for the delay in writing up the experiment.

Discuss this item in the forums.