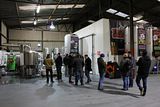 The traditionally quiet New Year period was not so for the beer fanatics of Beoir. Circumstances led to two brewery visits being arranged for consecutive Saturdays in January, making for early starts, long days and in one case, actual hard work.
Following the success of Beoir#1, the double IPA brewed at Black's of Kinsale last year, the brewing members were keen to have another go at commissioning a commercial beer. So when Trouble Brewing offered to host Beoir#2 they leapt at the chance. This time Reuben put the recipe together and a little after 9am on 10th January the mash got under way.

Details

Written by

TheBeerNut

Category: Beoir Meets
Hits: 4562
As a reward in a successful Indiegogo campaign 12 homebrewers from Beoir paid a visit to Black's of Kinsale craft brewery in Co. Cork, Ireland on 8th March 2014, to take part in a brew day.
The beer, a double IPA will be where ever great beers are found from May.
Here's a full length video taken by Reuben. It uses some of Brian's excellent pictures as well as some of Steve's.
Details

Written by

Brian Condron

Category: Beoir Meets
Hits: 3458
It seems that every few months there's news of a new Dublin pub stocking Irish craft beer, either as a specialist or alongside the mainstream offerings. Trying to keep up with them all, especially the suburban outliers, is an impossible task. However, a couple were on my must-visit list and I set aside a Saturday to travel out to them. While looking at the DART map it occurred to me that several of the stations on the southern stretch in particular had pubs with good beer nearby. Perhaps it could be expanded into a full-on rail-based crawl. There was enough interest on the forum and so the South Dublin DART Pub Crawl was born, assembling in Bray at 12pm on Saturday April 20th 2013.
Details

Written by

TheBeerNut

Category: Beoir Meets
Hits: 5874
Is there a new beer in town? A purely Irish drink from the Irish craft breweries that we can claim as our own?
The BeerNut first described Galway Hooker with "The makers claim 'Irish Pale Ale' is a new genre, which I was a bit sceptical about but now I can see where they're coming from. This has a touch of the caramel of the classic Irish red, but also a whole lot of the green, vegetal hops of the textbook IPA."

This distinct vegetal hops and hint of caramel I claim marks out many of the new Irish ales. Other wiser heads from Beoir disagreed but, showing an impressive resolve to both prove me wrong and to drink beer, they agreed to come along for a blind test.
Details

Written by

a_friend_in_mead

Category: Beoir Meets
Hits: 11509
Sunday, February 10, 2019
News
1871
While the Irish brewing scene hasn't grown as much in the last twelve months as it has in recent years, the task of picking a best beer from the hundred or so operational breweries has not got any easier. In this the eighth edition of the competition, 73 different beers received a preference from a Beoir member, cutting across styles, strengths and county of origin. As always, every beer brewed on the island and available in the previous year was eligible and voting was open to current Beoir members. When all the counting up was complete, three winning beers and a winning brewery were selected. And they were:
Sunday, August 05, 2018
Reviews
3253
Veteran beer writer Tim Webb has been publishing a guide to Belgian beer and pubs since 1992. This and the previous edition in 2014 were co-edited by the Europe-based American writer Joe Stange. A short essay by Webb at the front of the book charts the origin of the guide and announces his retirement from it. That means the next one will have a different feel to the current edition, because this is not simply a list of Belgian pubs and breweries, but rather a series of personal observations. This unusual approach really captures the idiosyncracies of Belgium's beer culture.