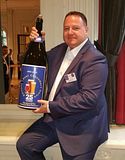 On Wednesday 21 October hundreds of beer drinkers from across Europe raised a glass in Brussels to celebrate of 25 years of EBCU (European Beer Consumers Union) campaigning success.
The celebration took place at De Markten, where members were able to sample beers hand delivered from across Europe, showing the great diversity of beer styles and traditions existing in different countries. Members of the European Parliament, European Commission and European Economic and Social Committee officials were in attendance.
Beoir was represented by Chairman Reuben Gray (pictured) and Irish brewing by Carlow Brewing Company, which kindly donated a range of its beers to the event.
The new EBCU executive was welcomed in on the night, which will include Carl Kins from Belgium, Bo Jensen from Denmark, Tim Webb from the UK, Jan Lichota from Poland and Henri Reuchlin from The Netherlands. The new executive will be focusing EBCU's campaigning efforts on promoting transparency in consumer information of beer and for a fair taxation system for beer across the European Union.
EBCU Chairman Henri Reuchlin says: "The 25th anniversary of the EBCU marks an important milestone in our history. We have more support than ever before from European countries, demonstrating the real demand for a pan-European voice for beer drinkers. We look forward to working closely with the European institutions and our member countries to support the beer industry across Europe."