"Day return to Hilden, please."
The girl at the ticket window looked confused. "Where?"
"Hilden. It's near Lisburn."

"To Lisburn?"
"No. Hilden."
"One moment please" and she scurried off into a back office. I became intensely aware of the queue behind me, the membership wondering why they always joined the one with the nutter at the front.
A young man appeared at the ticket window. "Yes?"
"Day return to Hilden, please."
"Hilda?"
"No. Hilden."
"Just a minute..." he turned and consulted a chart on the wall, and on coming back sold me a day return ticket to Hilden.
I took it from Irish Rail's unfamiliarity with the tiny village between Belfast and Lisburn that on my first ever visit to a beer festival I wouldn't be joined by hordes of thirsty Dubs on the Rail Ale Express to drunken oblivion. As it turned out, after transferring at Portadown, I was the only one getting off the train at the suburban halt. A handful of families wheeling buggies were down at street level heading in the direction of the thumping music from the yard of the Hilden Brewery, staging the second day of its annual three-day beer festival under the banner "Live Beer, Real Music".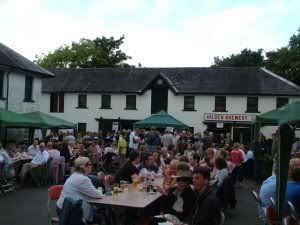 When I say I'd never been to a beer festival before, I mean the sort where you can buy a glass and fill it with a wide variety of beers, with the emphasis on real ales. I had been to that annual shindig in Munich, but with a closed shop of six brands and only one style on offer, it's nearly the opposite of a beer festival. In the Hilden brewhouse a long bar had been set up and over thirty beers were on offer. I set up camp at a picnic table to the side of the stage, out of range of the full force of the amps, and whipped out my notebook. I understand that this makes me a creature known in real ale circles as a "scooper" or "ticker": someone who samples the widest range of beer available at a festival, taking note of each. The species is much frowned-upon among mainstream festival-goers, though as an inhabitant of a virtual real ale desert my defence
is that I'm entitled to enjoy oases like the Hilden festival to the full. If that means half-pint measures and biro-scrawled records, so be it. Extreme scoopers, I'm told, run pocket bottling lines to take sample beers home, which does seem a little creepy to me. However, I do support the scooping movement's call for one-third of a pint to be a standard measure, though that would probably have meant drinking each beer while queuing for the next one. A half pint was just enough. Unfortunately, half-pint glasses were not on sale, so I had to sup from plastic. More civilised festival-goers drinking pints could buy their Hilden glass at the gate for £2 and rinse it at the bar before each refill.
Throughout the afternoon there was more of a queue for the face-painter than the beer. The bar queue built up from time to time but quickly spread out along the bar length.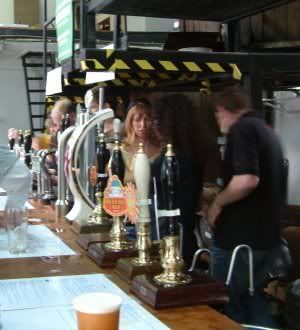 The Irish beers were grouped at the near end, starting with the house brews: Hilden, Scullion, Silver, Molly Malone, and those brewed at Hilden for the Molly's Yard brewpub in Belfast: Belfast Blonde, Headless Dog and Molly's Chocolate Stout. Whitewater had sent along their Belfast Ale and their summer ale Solstice Pale, but not beer-of-the-moment Clotworthy Dobbin, now officially one of the world's 50 best beers. I wouldn't like to think celebrity has gone to their heads.

South of the border was represented by Porterhouse TSB and Hersbrucker, the latter being the only lager I saw all day. Messrs Maguire Best Bitter was on tap, but nothing from Franciscan Well, sadly. In fact, only one non-Dublin southern beer was being sold: pitcher after pitcher, pint after pint, flowed from the distinctive Galway Hooker tap. The people of Hilden have a new love, it seems.

There was a northern English emphasis among the rest of the range, excepting Glaslyn Ale from the Welsh Purple Moose brewery. Moorhouse's brewery in
Lancashire had supplied its Premium Bitter and a dark ale called Black Cat, the latter dripping with medals and awards, including Champion Beer of Britain 1998. I didn't get it, however, finding it somewhat bland and uninteresting. A complete contrast was Old Disreputable from Manchester's 3 Rivers brewery: a very tasty sweet dark old ale. 3 Rivers also supplied their Manchester IPA, which ticks all the IPA boxes: smooth yet full-flavoured, aromatic, warming and loaded with hops. Oddest beer of the festival was Burton Bridge Damson Porter, relegated to the last tap by the exit and possibly sampled by me alone. It's an interesting blend of a light porter with a hint of sour fruitiness.

In a land unused to such luxuries it probably shouldn't have been surprising that the beer wasn't to everyone's taste. The table next to me was occupied by a group of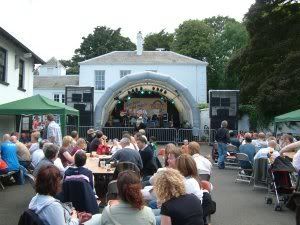 ladies and littered with empty bottles of Magner's, Smirnoff Ice and Kopparberg from the brewery's permanent bar. I was half expecting the CAMRA Gestapo to swoop and force a pint of best bitter down them (or at least some Aspall's cider, also on tap at the festival bar), but it didn't happen. In fact, CAMRA officials seemed rather thin on the ground. Their website advised members to look out for yellow-shirted activists co-ordinating the members' social, but I spotted just one such shirt, and it mostly covered by a jacket. Perhaps members were wary of appearing like beer geeks. At a festival, as if!

Ten halves later it was time to catch the 7.30 train back to Portadown. I used the half-hour stopover before the Dublin train departed to nip across to McConville's, a Victorian pub near Portadown station I'd passed many many times but never set foot in it. The day's drinking was rounded off with half a Bass in one of the cosy snugs.

My festival experience was hugely positive. The beer was accessible, high quality and great value at £1.30 for a half or £2.30 for the full pint. The range was plentiful and the atmosphere was friendly and relaxed. It all adds up to a hearty recommendation of the event and a yearning for more of this kind of thing. So that'll be Belfast in November.

"Day return to Balmoral please."
"Where?"