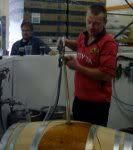 Cuilan from White Gypsy is not what I would picture as a champion of fair-trade eco-aware local produce. But behind the Munster jersey is a very clear vision of where Irish brewing should go. And I mean vision. Here is a brewery that avoids the target-marketed focus-grouped inanity that infests our age. White Gypsy's stated aims are for a good beer brewed with local ingredients bought at a fair price and drank by people who actually care what they drink.
To celebrate the opening, White Gypsy invited their friends from Tipperary, brewers from around Ireland and the members of Irish Craft Brewer to the White Gypsy brewery in Templemore.

Paul from Tig Bhric talks beer.
The plan for the day was to put an Irish stout to age in a barrel for the first time in decades. For all the talk of tradition, today's giant macro brewery bears as much relationship to when it was founded as a car factory bears to a blacksmiths. White Gypsy are testing if there is still room for actual craft-produced beer in Ireland.

The stout being barrelled will be ready for Easterfest in Cork. Anyone with a semi functioning tongue who misses this will spend the rest of their days wandering the byroads of Ireland sobbing to themselves and being mocked by badgers and shrews. The barrels are two fresh oak barrels and a Bushmills barrel. The oak had a buttery vanilla smell, the Bushmills barrel smelt like Christmas. The stout when added was a strong bitter aromatic scary monster of a brew. The idea is that it will mellow and compete with the barrel to produce a rich flavoursome final brew.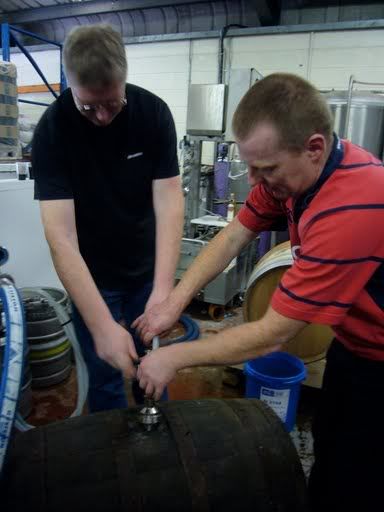 Here Peter from The Franciscan Well helps pour the stout into the barrel.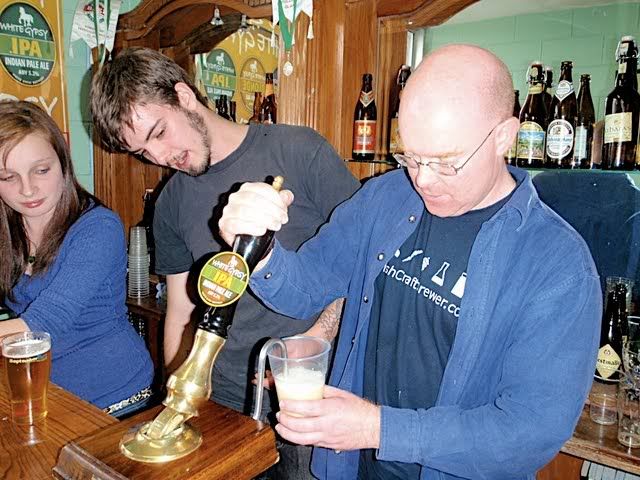 Paudi from The Franciscan Well (centre) spent the day helping out pulling pints.

As well as supplying their guests with pints, White Gypsy also had a roasting pig to celebrate. The pig had been feed on the spent grain from the brewery.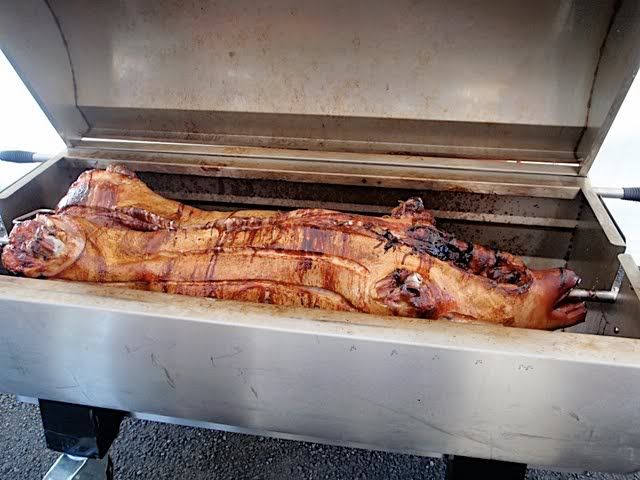 Dividing the pig involved some tense negotiations as to who got the crubeens amongst some gents who were raised on pig trotters and who had spent the Celtic Tiger years trying to find them again.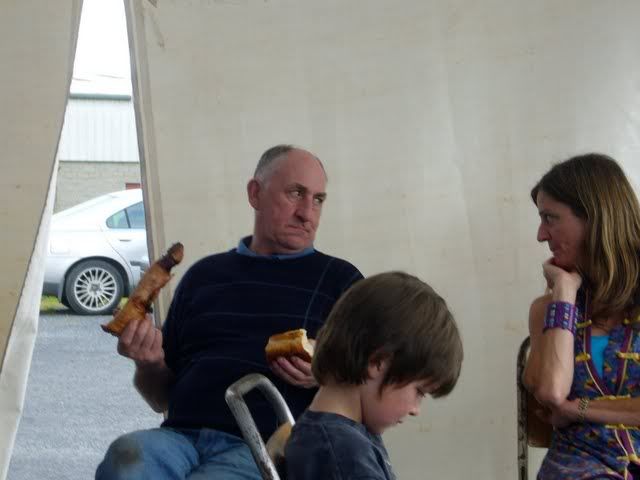 The question from White Gypsy and the other craft brewers of Ireland is: do you want a beer brewed to a marketer's specifications by a chemist in million-litre batches or would you prefer something using ingredients that guarantee the local farmers a fair price? Beer brewed in a fermenter the brewer's Dad spent the morning scrubbing because they wanted to impress 'the visitors'?
Beer brewed by a family that knows the true glory of crubeens?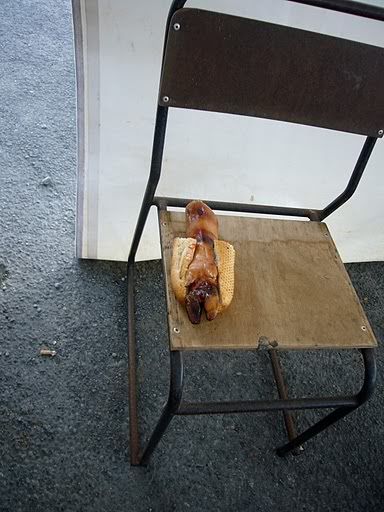 Do you ever want to see where your beer is actually made rather than a bunch of actors in ads hugging apple trees while the actual produce has all the craft charm of Paracetamol?