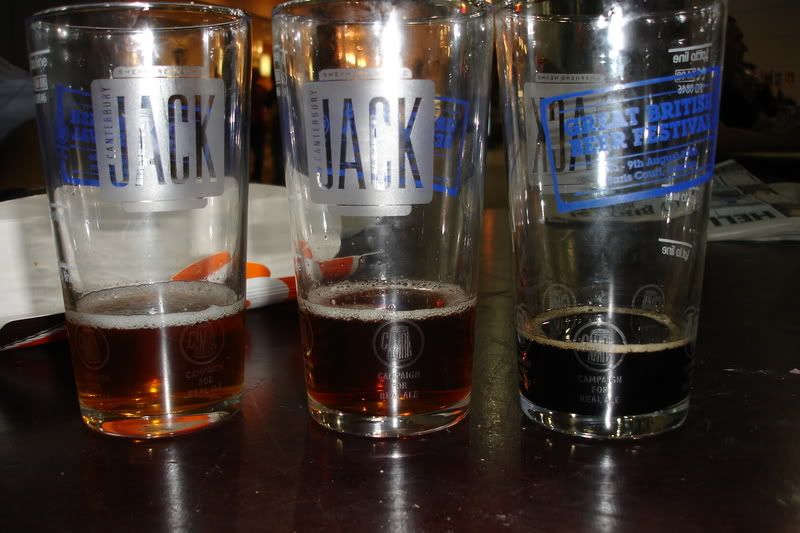 Thirds of a pint are the way to go at the Great British Beer Festival. The huge number of beers available puts pay to your dreams of trying them all, but a well thought out strategy and a third of a pint measure can help you make the most of your time there. Saturday is a very different event to the trade-only day earlier in the week. Firstly, and sadly, a lot of the more intriguing beer is gone, but don't worry: for the real ale starved beer lover there is more than enough to keep you busy and contented. Secondly, the crowd is no doubt a different one. For the most part it resembles a normal modern day pub crowd. There were of course a number of impressive beards and bellies on show, but frankly I'd be disappointed if there wasn't. With respect to food available at the venue, you can't argue with the fact that it is really bad for you, which of course means that it tastes bloody good. Pies, pasties, hot dogs and cured meats are but some of the delicacies you can indulge in, and indulge you will because the beer just cries out for something savoury and cardiovascularly unsound to be partnered with.

On the strength of numerous blog posts and other reports I headed directly to the international stand to see if any of the much raved about American beers were still available. I knew it was a hopeless cause, and my fears were confirmed when I spotted a deserted stand with nothing but some flags and advertising for the beers that once were. The Americans had packed up long before I got there and taken what was left of their immensely complex and nuanced barrel aged beer -- or their one dimensional unbalanced hops bombs, depending on your point of view -- away with them. All that remained was a fridge of unremarkable American beers that I can get at home.
All was not lost on the international front though; there was a wonderful Kreik on offer from the Verhaege Brewery, dispensed from an archaic but no doubt traditional barrel set up. It poured a luscious cherry colour with superb pink foam and packed a substantial 7% abv, but to drink it one would think it was no more alcoholic than the session ales I hoped to track down at the festival. The fruit finish was long and rich and it left me wondering why the hell I can't get cherries that taste like this from the supermarket. The lactic aspect was very tart and refreshing and I'm almost certain there was a subtle acetic contribution which worked rather well providing a slightly sharper edge than other lambics I have tried. At the same stall there were a number of German beers available which I couldn't resist because one of them was served from an old fashioned pumping mechanism. I sampled a weisse, helles and festival beer which were not exceptional in their variety -- I have tried this type of beer many times from the bottle -- but the freshness blew me away. They were packed with flavour and a lively carbonation that made me wish I could drink German beer like this all the time.
A question that all non-British visitors to the GBBF, but who are familiar with the major real ale producing breweries, must ask themselves is: Should I try all the ales I have heard so much about but can't get at home, or should I shun the big boys and concentrate on the smaller producers who do not have the luxury of their very own stall but are instead lumped in with all the other breweries from their region? I did a bit of both, and started by ambling over the Fuller's stall to try some of their ESB on cask. While it was a fine beer live from the cask, the bottled version was better, having greater complexity, which flies in the face of what we might anticipate from cask ale, but there you go. Various mergers and beer politics have resulted in Fuller's acquiring influence over Gale's Brewery, so Gale's HSB was available from the Fuller's taps.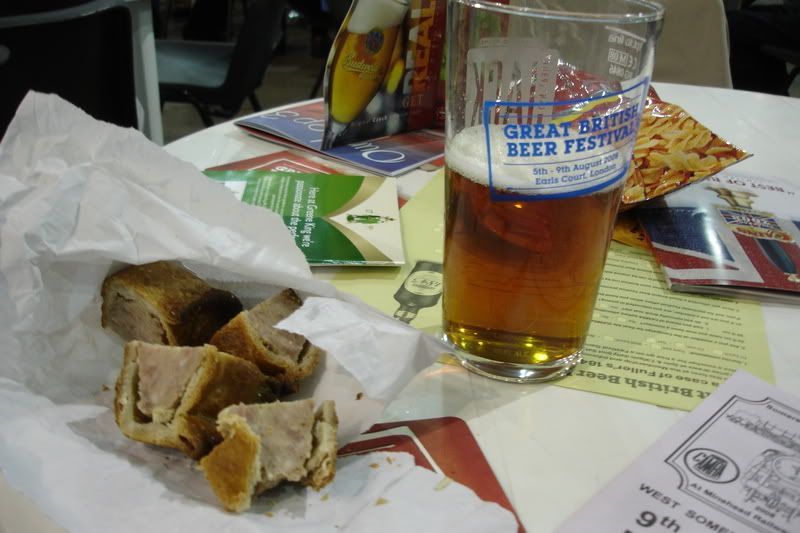 The friendly guy behind the counter was a Waterford man who runs the lab at the brewery. We got to chatting about beer and science as we both studied biochemistry at one point or another. Gale's HSB is the special ale produced by this brewery. Fuller's have put it up alongside their ESB, but they need not fear it out doing their flagship special bitter because while it was a tasty pint with dark cake like notes, it lacked the depth of the ESB. My conversation with the Fuller's man threw up a possible explanation for this which he stressed himself: the HSB does not use the Fuller's yeast, which is likely responsible for the chewy full flavour that has won their ESB so many awards.
I made my way through a number of beers from the larger breweries including Brakspeare's Mild and Bitter, Cain's Mild where I chatted with a friendly woman about the seemingly imminent demise of the brewery. Understandably she was concerned about her job and I felt a little bad as I realised afterwards that my questions to her were primarily about the demise of their beer. I tried Woodford's Wherry for the first time and found it to be quite pleasant but not all that popular opinion lauds it to be. The strangest of the big boys' beer I sampled was Deuchar's cask lager mainly because it wasn't lager like at all. I steered clear of their insipid IPA and instead opted for the slightly more satisfying XPA with its larger hop and malt measure. The XPA has toffee/caramel up front which suits this beer very well, but strangely the cask lager had the very same toffee notes which didn't work very well in what was already a weak beer. In general the beer from the larger breweries was a little disappointing. It lacked any great character, which probably goes a long way to explaining why these guys are the big boys; their beer is unchallenging to the English ale drinker's palate and as a result they sell the stuff by the truckload.
I'd had enough of the famous beer so waded into the heavily populated stalls of the regional brewers. It is very hard indeed to know where to start when you are faced with so many bar clips from so many brewers, and while this scene might not unreasonably feature in a beer lover's wet dream, there are limits, and I was left baffled with respect to a plan of attack. Eventually I pulled myself together and opted for the first porter I set eyes on. With my first draught of this beer I immediately realised that the smaller regional brewers were offering far more than the bigger boys. Finn's Hall Porter from the Beowulf Brewery was a superb dark beer with some dark fruit that really hit the spot and set me eagerly off in search of what the others had to offer.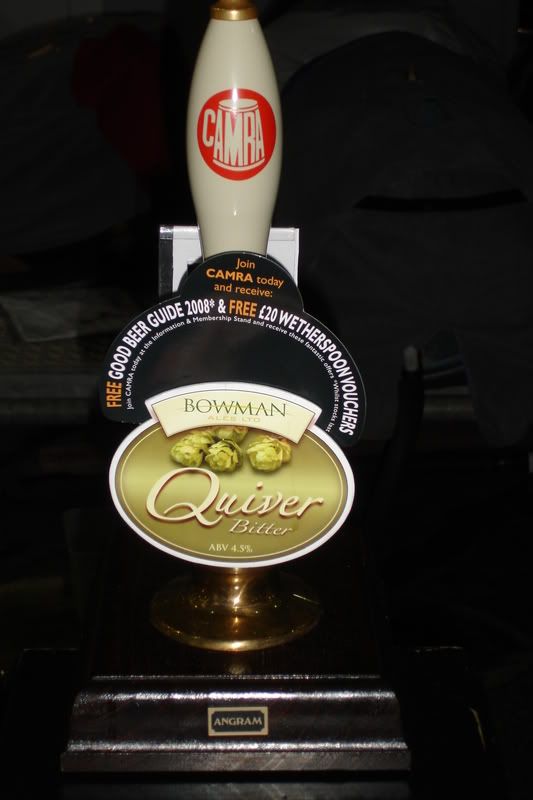 I initially fell into a geographical method of picking a beer for sampling, it was as good as any other because I didn't recognise any of the pump clips and had to find some means of picking a beer. This method threw up a handful of excellent beers including Alligator Ale from Ascot brewery, near where I once lived in England, which was a full on American style pale ale with rich cascade hop aroma and flavour. Next up was Buffy's Norwich Terrier from Norfolk. This ale was once again a hoppy affair with a long finish and at just 3.6% abv is my idea of the perfect session pint. We desperately need more of this stuff in Ireland. Bowman's Quiver was picked on the strength of a barman's advice and he didn't steer us wrong. This one also packed American hop flavour with a crisp refreshing finish and went down a treat. In contrast to the hoppier ales, Arkell's 3B proved maltier with caramel to the fore but plenty of hops to pack in a decent finish. Another CAMRA volunteer suggestion led us to White Admiral from the Beartown Brewery. Upon later reading I discovered that this beer is considered popular with ladies. Well stick me in a dress and call me Shirley if you wish, because this was one of my favourites mainly down to the dry hop aroma that rose from the glass to fill my nostrils.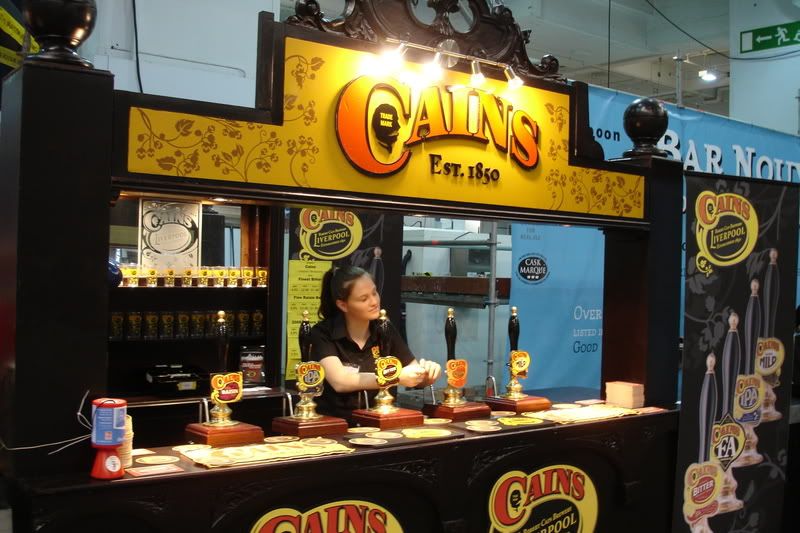 A further aspect to the GBBF, and perhaps any beer festival where so many people of similar interests congregate, is the individuals you meet and chat with while you wander round the stalls. One character of note I met was a walking encyclopaedia of British beer and we found ourselves trapped for quite a time while he waxed lyrical about various breweries. We patiently waited for a break in the seemingly endless stream of words that poured from his beard-enshrouded lips and eventually made a polite escape. These creatures are a common feature of the GBBF but are essentially harmless, except with respect to the precious drinking time you can lose during an encounter with one.
No article on the GBBF is complete without some description of the awful aircraft-hangar-like venue that hosts the week's proceedings. It is truly vast, with a total lack of natural light which is compensated for by a staggering number of halogen bulbs dangling from the roof. The lighting is somewhat soul destroying and makes it damn near impossible to take a decent photograph. The very worst aspect of this set up is the sickening sense of temporal vertigo experienced when you step out of the venue into London's early evening. I commonly start early and finish early at beer festivals, but the lack of natural light in the Earl's Court Arena coupled with mild inebriation, makes you certain that it is dark outside, and stepping into the light of the setting sun is a very unsettling experience indeed.
Read about the Trade Session.
Discuss this item in the forums.