Having read a couple of nightmare accounts of the Great British Beer Festival I hadn't been planning on going any time soon. CAMRA's headline event is held in the vast Earl's Court exhibition hall and the sessions closer to the weekend are famous for being packed full of sweaty-beardy-farty Real Ale aficionados mixed with loud groups of younger men and women whose behaviour would put a Temple Bar stag or hen party to shame. The queues for both imbibing and expelling liquids are uncomfortably long and, worst of all, many of the most popular beers have already sold out. I've no first-hand evidence of the truth of this, but understandably wasn't in a rush to change that. However, when it was suggested that I ask CAMRA for free tickets to the opening trade-only session on the Tuesday my interest was piqued. Doors for this open at noon, and until 5pm the festival is open only to brewers, publicans, journalists, exporters, distributors and anyone else who thought to ask CAMRA nicely if they could get in. I'll give that a go, I thought.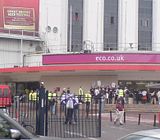 I arrived at Earl's Court at 11.15 to find a masked squad of CAMRA members busy on the steps staging a protest about beer taxes. Interesting and all as that was, I went off for a coffee before the doors opened. The café round the corner on Earl's Court was full of people in Hobgoblin t-shirts. Oh no, I thought: here come the beardies. Closer inspection revealed them to be volunteers taking a short break before showtime, and presumably deeming it too early to avail of the free bar ("The Volunteer's Arms") available to them in the hall.

By 11.45 the queue for entry had turned around the side of the venue and as we waited for kick-off more and more people joined it. I ear-wigged on the conversation behind me where a recently-established Australian microbrewer and a local CAMRA member were lamenting the state of crappy lager in their respective countries. "I just don't get on with CO2" said the Englishman: only at CAMRA...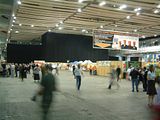 The first thing that struck me on entering the exhibition hall was how much space there was. The rows of bars, food stalls and merchandise concessions were spread well out with lots of tables and acres of open wandering space. I got the distinct impression that it had been designed to handle crowds who weren't here right now. I'm told that pubs who get given lots of trade session tickets organise buses of regulars to the festival. As far as I could see these groups of men (all men) would make a beeline for the bar selling beer from their region and then stay there all day. Madness. As well as the regional bars, all of the big Real Ale brewers had high-concept bells-and-whistles bars of their own. Trade at these marketing extravanganzas tended to be the corporate players: the boys from head-office networking with their opposite numbers. Meanwhile the corporate enclosure itself was abandoned, the suits free to roam the venue unimpeded, I assume.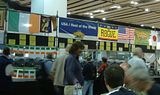 The third major demographic gathered at the Bières Sans Frontières bars. These were the cognoscenti: the microbrewers, the journos, the commentariat, the geeks and, lowest of all, the bloggers. Attention centred on the American cask beers on offer, particularly the high-powered barrel-aged ales. Thank CAMRA for third-pint glasses is all I can say. I was particularly impressed with Lost Abbey Angel's Share, a barrel-aged dark amber beer with a depth and richness I've never encountered before.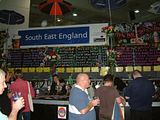 In fact, knowing it would take me a while to get through a third of a pint of it, I went for a wander around the hall, checking out the more local beer stalls -- the South East England one was perhaps the most impressive, displaying its beer list on an elaborate blackboard above the counter. No-one else, other than the aforementioned corporates, seemed to have put in as much effort. Nearby stood the pie creche, a doubtless essential facility which allowed patrons to choose and purchase their pies well in advance of the time when they felt the need for soakage.

Back at the world beer bar, more barrel-aging was in order, including Dogfish Head's Palo Santo Marron -- a thick, smoky fruit-laden affair, and Dutch micro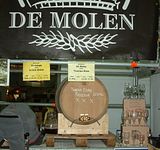 De Molen's Tsarina Esra imperial stout, being served directly from the enormous wooden hogshead in which it was being conditioned. Meanwhile, there was a modest amount of interest in the shamrock-and-tricolour bedecked section of the Rest of the World bar, where beer from almost all of Ireland's craft breweries was being sold on cask. The brewers themselves were out in force, Cuilan Loughnane's Munster jersey acting as a beacon for the Irish beer crowd to rally round. I'm sure he was delighted when his MM Imperial stout sold out within an hour and a half of the doors opening -- I wasn't so pleased since I didn't get any.

I still think I did well, and with such delights as these on offer, it barely occurred to me to go looking at what the more local bars were selling. But later on I succumbed to curiosity, and a free beer token was burning a hole in my pocket. The numbers had swelled by this time, though the festival was far from what you might call crowded, as the first public session got under way. Trade at the bars was brisk, though there was nothing I'd describe as an actual queue.
The throng was quite thick around Central Southern England, since Roger Protz had just been on stage to declare Triple fff's Alton's Pride as Champion Beer of Britain some twenty minutes previously. I had been standing next to the brewers when the announcement was made: they were surprised. Next to this bar, in South West England, I was treated to the disturbing sight of a dozen or so large men all wearing identical Skinner's t-shirts except for the beardy in the middle who was dressed as Betty Stogs. They were singing. Avoiding eye contact, I nipped in to grab a glass of Peat Porter from Moor's of Somerset, before drifting up to the Mid West and a swift slurp of another porter, Finn's Hall, from Beowulf in Staffordshire.

I left at 6.30, just as the post-work crowd was taking over the hall, though most of the trade members weren't going anywhere just yet. It was a highly enjoyable afternoon and I feel I got the pick of the crop, or most of it, without ever having to queue for a beer or fight for a seat. When I originally requested a ticket for the session, CAMRA sent me four of them. However, no-one else from our community was able to make use of them, which is a real shame. I'd encourage anyone who sounds impressed by what they've read here to secure the day off next year (4th August, most likely) and arrange to attend. It's well worth a daytrip.
Read about the Public Session.
Discuss this item in the forums.