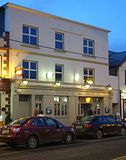 Flushed with success from our first meeting in Connaught we spent some time talking to the nice people in The Oslo about a tour of the brewing operation and a chance to meet the brewer. It wasn't long before they put us in contact with John Smits their brewer and we settled on a date. Initial expectations were for a group of about 10 to 12 and we thought that would be on the optimistic side. However, with a little help from our friends at Home Brew West, the numbers soon swelled to over 20 and we began to panic. A quick call to John dispelled all fears as we hatched a plan for a number of smaller tours to help with the numbers.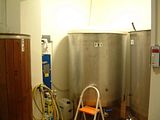 On the day some arrived early in order to sample the excellent food available in The Oslo and we were very pleasantly surprised to find the local products, Bay Lager and Bay Ale, were on offer for the night at just €3 a pint. Both brews went down very well with the ICB crew of 20 or more that attended on the night, as well as the fine selection of bottle and draught beers available.
John (the brewer) started making beer as a teenager in Galway, beginning his ale drinking later in the UK. He is quite modest regarding his brewing role and was happy to share his brewing knowledge and stories with us, including the mishaps he encountered along the way, as he toured us through the tight space in which he works. Later in the evening Grace the bar manager arranged a fine selection of complementary finger food for us to keep the speed wobbles at bay as we continued to sample the local produce as well as the contributions of ICB members on the night.


The Oslo is a new microbrewery with a 5 barrel plant installed by the Porter Brewing Company of Bury, Lancashire. They currently only brew for The Oslo but there are plans in place to add a barreling facility so they can supply the other bars in the group such as The Cottage in Salthill and The Salthouse in central Galway. Brewing in The Oslo takes place currently about two or three days a week at present to meet the volume requirements of the bar, and the intention is to focus on their current offerings until they are selling through their other outlets.
Special thanks to John Smits, Grace, Mentos (Bar Manager) and all at The Oslo for putting on a great night. We will be back!
Discuss this item in the forums.