On Saturday April 3rd, the fourth and final Irish Craft Brewer Beer of the Year Awards were announced at the Franciscan Well Easter Beer Festival in Cork. As with 2009, voting had been open to all members of the community and every beer brewed and available on the island of Ireland was eligible for a prize. An additional prize was also awarded for a beer of particular merit which was available at the festival but not normally on sale elsewhere.
The winners were an interesting mix of cask, keg and bottled beers and represented all four provinces of the island.
Before the final decision could be made, the list of over 100 commercially available beers had to be whittled down to a shortlist. This consisted of all the beers that had received a first-preference vote, namely:
Belfast Black (Whitewater)
Boh Pils (Franciscan Well)
Chocolate Truffle Stout (The Porterhouse)
Clotworthy Dobbin (Whitewater)
Galway Hooker (Hooker Brewery)
Golden Otter (Franciscan Well)
Goods Store IPA (Carlow Brewing)
Hop Head (The Porterhouse)
Jul Ól (White Gypsy)
O'Hara's Red (Carlow Brewing)
Oyster Stout (The Porterhouse)
Purgatory (Franciscan Well)
Weaver's Gold (Clanconnel)
Unsurprisingly once again, the microbreweries left Ireland's large breweries far behind in terms of beer quality and the preference of the discerning drinker.
From this shortlist was produced the final three prize winners, following a proportional dividing-out of the vote share.


ICB Beer of the Year 2010
Goods Store IPA
by Carlow Brewing
This tragically-rare American-inspired India Pale Ale went down a storm with drinkers in 2009. The last batch ever brewed at Carlow Brewing's former headquarters at the Carlow railway station goods store, it's dry-hopped in the cask with Cascade hops for a powerfully fruity citric aroma. The flavour is highly complex and multi-faceted, yet it remains thirst-quenching and easy to drink. Cask beer is a growing phenomenon in Ireland, and with beers like this championing the format it's bound to become more popular. A small amount of Goods Store is still in circulation: check regularly at the Bull & Castle in Dublin and at beer festivals in Ireland this summer.



1st Runner-up
Galway Hooker Irish Pale Ale
by Hooker Brewery
As in 2008, Galway Hooker was knocked into second place by a cask special edition. It remains, however, the conscientious Irish drinker's preferred regular tipple. Hooker shows astonishing consistency for a hand-crafted beer, and is shipped nationwide by the two-man team which handles every aspect of the beer's production and distribution. This beer is accessible in every sense of the word: light enough to act as a gateway ale for those unfamiliar with the complexities of craft beer, but hoppy enough to satisfy the connoisseur. An excellent ambassador for Irish craft beer and well on its way to becoming mainstream, as well as proof that there's more to Irish beer than stout, lager and sweet red ale.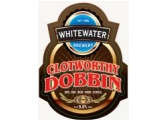 2nd Runner-up
Clotworthy Dobbin
by Whitewater
Third place was a closely-fought battle, with a number of new bottled beers in contention for the prize. In the end, it was edged by last year's second place winner, Clotworthy Dobbin, the ruby red porter with lots of rich chocolate flavour and a hoppy bite. It's primarily available in bottles, but makes occasional special appearances in draught form as both keg and cask. Whitewater are past masters at bottling, and with the Porterhouse and Dungarvan Brewing now expanding into this area of the craft beer market is seems that it will become a more significant sector in the years to come. Clotworthy Dobbin sets the bar for what bottled Irish beer can be.
As in previous years, a special merit award was presented to a brewery for a beer available at the festival but not part of their regular line-up.
Beer of the Festival
Raven Black
by White Gypsy
While barrel-ageing is enjoying something of a renasissance among craft brewers worldwide at the moment, we had not seen any of it in Ireland. Wood gave way to stainless steel many decades ago, and things remained that way until last year when White Gypsy acquired three oak barrels -- one American, one French and one formerly used at the Bushmills distillery. Into these went a powerful imperial stout and the first commercial blend of the results was exhibited at the festival as Raven Black. It's relatively light at 8.5% and while clearly showing the woody vanilla flavours of the barrel it's not at all cloying or difficult. A perfect smooth sipper for those browsing the festival offerings.
The ever-growing number of Irish craft breweries and the diversity of beers on offer make the awards decisions increasingly tough. A big thank-you to all the members who took the trouble to vote; to the brewers for continuing to make excellent beers; and to The Franciscan Well for giving us the opportunity to taste them under one roof. Later this year, Beoir will take over the award-giving duties of ICB and details of the 2011 awards will be posted to the site in due course.