Saruman

4474
This Saturday, our friends at the National Homebrew Club will be hosting what is probably Ireland's first homebrew beer festival. This is a completely free event both in terms of entry and beer. In fact, it has been worked out that there are roughly 500 pints of homebrew going for free.
This isn't any old homebrew either, this is award wining homebrew. The winners of the NHC national homebrew competition earlier in the year are back with their brews so everyone can have a taste and ask questions of the brewer. This festival will highlight the sort of quality you can achieve with amateur brewing and this in turn can lead to brewers going on to open their own brewery and add to the ever increasing list of Irish micro breweries in Ireland, a number that should be over 40 by this time next year.
I will be there myself with my Dark Stranger Stout which won silver medal in the stout category and was also one of the few beers to get 44, the highest points on the day.
The beer will be served from corny kegs in a cask setup with hand pumps and since the beers are keg conditioned, this will be a real ale affair.
The overall winning beer, Ormeau Dark will also be there if you haven't had it yet. The beer was brewed commercially by Trouble Brewing.
The event kicks off at the Bernard Shaw at 12pm and all are welcome.
TheBeerNut

3666
It's not a brewery and it's not on a corner, but Kilkenny's leading craft beer pub can now boast national recognition having been awarded the 2013 Craft Beer Pub of the Year by Licensing World Magazine.
Even though the pub has only been in business for less than six months, the award will come as no surprise to anyone who has visited: perhaps uniquely among Irish pubs, every beer on tap comes from an Irish microbrewery and the selection is wide-ranging. Although the premises is owned by the Carlow Brewing Company it is heartening to see such support being given to the smaller producers.
The pub itself is clean and modern with some nice traditional touches including open fires. The staff are well trained, extremely helpful and show a genuine enthusiasm for craft beer.
Congratulations from Beoir to all who have made Brewery Corner such a success in a short space of time.
Brewery Corner: 29 Parliament Street, Kilkenny.
(Picture from Facebook)
Christina

4212
I really have been into craft beer since I came of age to legally drink in America. My parents lived in Wisconsin which is home to some amazing craft breweries like New Galrus, a small brewery that makes some truly exceptional beers, including their famous Spotted Cow. When I was at University in West Virginia, we used to drive 45 minutes out of state to pick up quality craft beers that weren't available in the state yet. I've lived in six states in the US, most recently, in Northern Virginia, outside of Washington, D.C. The craft beer scene in and around DC is massive. There are loads of events like the Northern Virginia Brewfest, as well as some great craft breweries, brew pubs and craft beer bars. Craft beer is a big movement in DC and you will, in my estimation, run into more people who like craft beer than not. It was because of this that a friend and I co-founded a craft beer group for women in 2009, which my friend still runs.
I moved to Ireland in August of 2011 to pursue my postgraduate degrees and joined Beoir right away.
Christina is the founder of the Dublin Ladies Craft Beer Society on meetup.com
Chairman's note:
We have set up a new forum on Beoir forum called Beoir Ladies and Christina will be trying to round up women to join Beoir and get involved as well as existing women who tend not to be so active. Christina has already organised many beer events for women in the US and Ireland so I am confident in her abilities.
TheBeerNut

3807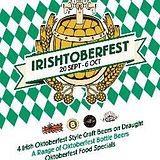 Oktoberfest season is upon us once again, the annual celebration of strong Bavarian lager served in one litre mugs. It's the time of year when you can expect to find even the most traditional of Irish pubs decked out in blue and white and flying the flags of either Paulaner or Erdinger.
Usually, The Bull & Castle in Dublin is no exception to this, but they've taken a different tack for 2013. From 20th September through to 6th October the Beer Hall will be celebrating its first "Irishtoberfest", showcasing limited edition beers from Irish microbreweries.
The line-up includes Eight Degrees Amber Ella, one of the best-received beers at the Irish Craft Beer and Cider Festival earlier this month. Brand new specials include Smokescreen: a dark smoked ale from Metalman, and Fuzzy Logic: the first wheat beer by Trouble Brewing. If you simply must have a maßkrug of lager there's O'Hara's Helles and Eight Degrees Barefoot Bohemian Pilsner to quench your thirst.
Prost!