TheBeerNut

5823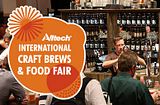 Kentucky-based brewer and distiller Alltech returns to Dublin this February for a second beer festival, following the first last July. Once again, Convention Centre Dublin is the venue and once again an international competition will be held to find the best beer in show, to succeed Hilden Brewery's Twisted Hop as the holder of the Dublin Craft Beer Cup.
For the consumer there will be beer on offer from new Irish brewers such as Rascal's, Stone Barrel, Black's of Kinsale, Brú, Mountain Man and the Independent Brewing Company, as well as several familiar favourites plus a range of international beers. Sheridan's cheese, Keogh's crisps, Bretzel bakery and the Burren smokehouse will be among those providing food matching options.
There will be live music, talks, tastings, and of course the rugby will be shown on Saturday afternoon.
The event is split over two public sessions, on Friday 7th from 5pm to 9pm and Saturday 8th from 12pm to 9pm. Admission to each costs €15 which includes a festival glass and 4 beer tokens. Click here to buy tickets.
For full details and updates, see the festival website.
Saruman

3699
We had a brilliant 2013 at Beoir. We exceeded last year's total membership after only 6 months and we still have 6 months to go. Beoir membership runs from the 1st of July for one year. From January, membership drops to €5 to account for the shorter membership term and you can join here. You can still avail of all the excellent benefits for Beoir membership with the exception that you will receive €5 worth of Galway Bay vouchers rather than the full €10. If you would prefer to support Beoir by paying the full €10 and get €10 worth of vouchers, you can do so by emailing This email address is being protected from spambots. You need JavaScript enabled to view it. for details.
Saruman

4226
A special for Christmas, The Good Craft Brewery Guide is a concise summary of Ireland's emerging small scale brewing industry, it outlines the stories behind Ireland's emerging craft brewers and details the styles and flavour characteristics of their beers.
Tim O'Rourke, the author of the book has reduced the price of the book for Christmas. It now costs €4 for Beoir members and €5 RRP for non members.
Please note that we do have to charge for shipping in Ireland at this price so if you can collect in person, that might be better.
TheBeerNut

3974

Andy Hamilton is a Bristol-based home brewer, teacher, gardener and forager. His first book, Booze for Free, was a guide to growing and foraging ingredients for making your own beer and wine. Brewing Britain, subtitled The Quest for the Perfect Pint and How to Make It has a wider scope, still covering the brewing element but adding a more general guide to beer and beer styles as well.
The format is very much that of a practical handbook for the total novice, starting with how to analyse beer: the colour, aromas and flavours and how they're achieved; glassware, serving temperature and cellaring. The second section moves us on into making our own beer, introducing the basics of sanitising, taking readings, priming and bottling, followed by concise descriptions of what's involved in kit, extract and all-grain brewing, and a guide to trouble-shoooting problems in finished beer.