Mark Hilliard - Beoir PRO

4953
Beoir very much welcomes the announcement at Budget 2016 that the excise relief for microbreweries will now be available upfront. This will improve the cash flow for these small and medium businesses which we hope in turn will help further develop this value sector of the Irish economy. For the second year running, the current Government has helped incentivise small indigenous beer producers which they have recognised as an important and growing part of the Irish agriculture and food sector.
We would have very much liked to see movement in the excise relief for Irish artisanal cider makers in line with that of the microbreweries, but we are heartened to see the government again recognises the role microbreweries play in the Irish economy.
TheBeerNut

4650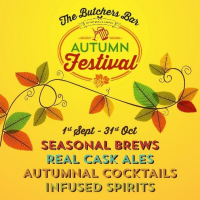 The Bull & Castle in Dublin is running a two-month long autumn festival for all of September and October. A range of special and seasonal beers will be available on rotation during the event including, appropriately enough, Eight Degrees Ochtoberfest Bock, one of the stars of the 2015 Irish Craft Beer Festival at the RDS. There will also be a new beer from local outfit Five Lamps, a Dark IPA of 6.9% ABV.
And there'll be a selection of infused spirits, cocktails and something called an Orange & Nutmeg Bourbon Hot Chocolate. BUT the real action is at the handpump. On the cask roster is:
Rascal's Wunderbar German IPA (6% ABV)
Rascal's Big Hop Red (5% ABV)
Dungarvan Seaweed Saison (6.5% ABV)
The latter of these, a collaboration brew with Norwegian craft beer pioneers Nøgne Ø, went down a storm at the RDS and has been in very short supply around the country. A cask in Dublin is a coup; €4.50 a pint makes it unmissable.
All beers are available for a limited time while stocks last. Click here to see the full festival menu and keep an eye on the Bull & Castle's Twitter and Facebook for updates on what's on when.
TheBeerNut

5057


The Irish Craft Beer Festival 2015 is almost here. For three days, dozens of breweries and hundreds of beers will be taking over the RDS in Dublin, alongside whiskey, cider, food, music and debate. It's the perfect opportunity to explore Irish craft beer under one roof, and try beers from breweries you've never met before.
But there's also the chance to taste one-off and rare beers not usually available at all. We've decided to compile this list of the specials we know about to whet your appetite ahead of the festival. It's not complete, it may not even be accurate, but it should get your mouth watering.
Don't forget to bring your Beoir membership card for half price admission at the door!
Blacks of Kinsale
Sour Brown Ale
Jester Brown

Dungarvan
Imperial Red Ale: 7.3%
Porter: 5.1%
Strong Ale: 10.4%
October Ale: 7%
Copper Coast aged in Sherry barrels: 4.3%
Raspberry Black Rock: 4.3%
IPA: 7.2%
Eight Degrees
Ochtoberfest Boch: 6.4%
Millennium Imperial IPA: 10%

Kinnegar
Hilly Head Farmhouse Red Ale
Crossroads: American Style IPA, 6.2%
Geuzberry: Gooseberry kettle sour, 5.2%

Mountain Man
Hillbilly Heaven: American bourbon oak aged ale
Hairy Nuts: IPA with pecan nuts
Broken Hipster: Ginger beer
No Country for Owl Men: Irish whiskey oak aged Ale
Beard of Zeus: Raspberry Ale
Bruce's Bluenoser: 4% blueberry ale
Year of the Goat: 4.5% coriander & anise ale
Vincent Van Coff: 4.6% coffee & vanilla ale

Northbound
No-Name IPA
33: Sticke Altbier
O Brother
IPA
Brutus Double IPA
O'Hara's
Rhubarb and Strawberry Wheat Beer
Hop Heavy IPA
Radikale
Curious Brew: Brewed with gin botanicals
Rascal's
Chardonnay Aged Saison
Big Hop Red infused with 250 Square Coffee
Sim Simma: Hemp ale
Rye River
Triple Decoction Doppelbock
Baltic Porter
Rye River Saison
Smoked Belgian Dunkelweizen
Double Decoction Marzen
Vienna Lager
Oak Aged Keeping Red
Hipster Hopped - TNT
Hipster Hopped - Azacca
Hipster Hopped - Experimental Grapefruit
Watermelon Wheat Ale
Sexy Lacto Flanders
Sticker Junkie: IIPA
Belgian Single w/ Nelson Sauvin
Farami: coffee stout
Lemondrop Berliner
Lapsang Souchong Porter 5.4%
Stone Belly IPA 6% (Yellowbelly Stone Barrel Collab)
West Kerry

Bitter Sable: Black APA

Blue Rose: Cascade hopped pale ale

Black Elder: Dry hopped black ale
White Gypsy
Cream Ale
Helles
Wicklow Wolf
Simcoe IPA
Elevation Pale Ale
FreeRanger IPA
Belgian Brown
Saruman

8008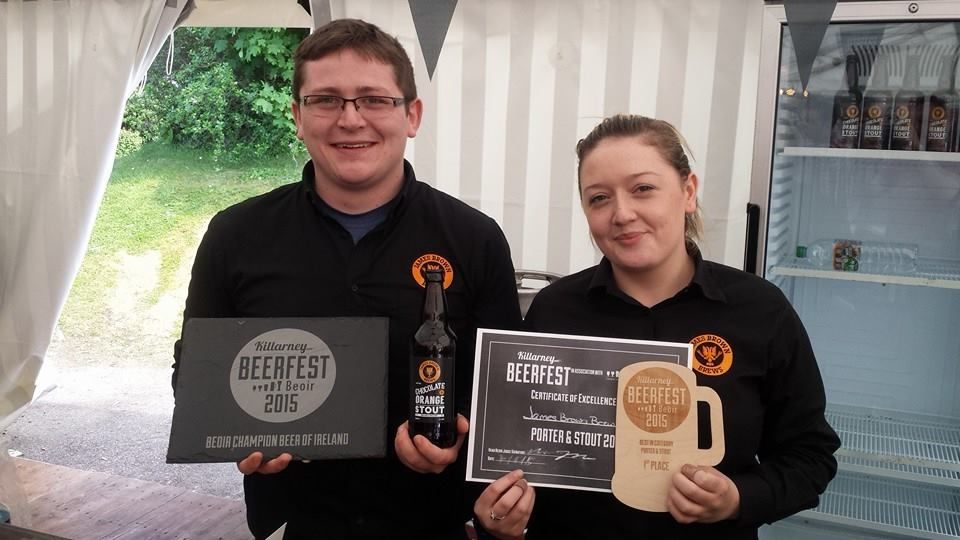 This weekend saw the first Killarney Beer Festival take place at the magnificent INEC. Beoir was heavily involved in getting it set up and primarily in running the Killarney Beer Awards as well as educational talks and tasting sessions.
For the awards, we invited 6 international judges from around the world to complement our own experienced judges. Five of these judges were EBCU delegates and are official judges in other EBCU endorsed competitions.
Each category had a senior judge assigned who had the deciding vote where a deadlock occurred.
Those senior judges were:
André Brunnsberg - Finland - EBCU
Theo Flissebaalje - Netherlands - EBCU
Carl Kins - Belgium - EBCU
Jos Brouwer - Netherlands - EBCU
Des De Moor - UK - CAMRA, Beer Writer & Judge
Tom Coughlin - USA - BJCP judge for 10 years
The most important people on the day were the stewards of course. Kellie Dawson was the lead steward and ensured the judging went smoothly and that we were unaware of what beer we were judging so we could remain impartial. Stewarding on the day was Meg Coughlin and Hilary Gray as well as a member of the INEC staff to act as a runner for beer coming in pitchers from draught.
Each beer that achieved a certain score was awarded a certificate of gold, silver or bronze and that list is being compiled at the moment. Expect more details to follow. For now, here are the best of category winners and the overall best in show.
The Beoir: Champion Beer of Ireland went to James Brown Brews for their Chocolate Orange Stout. This was brewed at the Brú Brewery in Trim.
First Runner Up: Kinnegar - Black Bucket
Second Runner Up: O Brother - The Chancer
The best in show was made up of the top 3 out of all the 1st places each category. These were decided by our international judges in order to maintain complete impartiality as these judges were tasting the beers for the first time that day and couldn't be influenced in their decision making by any recognition of what they were tasting.
1st - O Brother Brewing - The Chancer
2nd - Kinnegar Brewing - Scraggy Bay
3rd - Killarney Brewing - Scarlett Pimpernel IPA
1st - Torc Brewing - Torc Amber Ale
2nd - St Mels - Brown Ale
3rd - O Brother Brewing - The Fixer
1st - Trouble Brewing - Remix
2nd - Carrig Brewing - Pilsner Lager
3rd - Jack Codys - Puck Pilsner
1st - James Brown Brews - Chocolate Orange Stout
2nd - Jack Cody - Hail Glorious St Patrick Stout
3rd - Kinnegar Brewing - YannaRoddy Stout
1st - Kinnegar Brewing - Blackbucket
2nd - 9 White Deer - Black Lightning IPA
3rd - Black Donkey - Buck It
1st - Hillstown Brewery - Spitting Llama
2nd - Black Donkey - Sheep Stealer
3rd - Kinnegar Brewing - Swingletree Belgian
1st - Elbow Lane - Arrow Weisse
2nd - Hillstown Brewery - Goats Butt
3rd - Franciscan Well - Friar Weiss
Here is the full list of placement
s
. Thanks to all of the breweries that entered beer and congratulations to the winners. I think this represents the most impartial and independently run beer competition in Ireland and I expect there will be even more entries next year.