Reuben Gray

4600
Beoir would like to offer a heartfelt congratulations to Seamus O'Hara on his appointment as the new Chairperson of the Irish Brewers Association (IBA). Seamus set up the Carlow Brewing Company in 1996 which celebrates its 20th birthday this year.
To say that Seamus was a pioneer of the craft beer industry in Ireland wouldn't do him justice. Seamus has helped to see Ireland in to the 21st century in terms of beer choice and the promotion of independent brewing and has been at the forefront of what some might term the craft beer revolution in Ireland. He was also among the first independent breweries to export beer outside of Ireland and has done so for the last 20 years.
Beoir has an excellent relationship with Seamus and we expect that to continue in his new role. While independent brewing still makes up a small part of the market, it is growing every year. This is despite the fact that global beer consumption has been slowing down. It shows a new level of respect for what was once a fledgling industry. There are approximately 75 independent breweries on the island of Ireland now and that number increases every year.
We wish Seamus the best of luck and expect some interesting times ahead for independent brewing in Ireland.
TheBeerNut

7152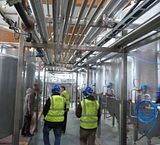 They don't go in for half measures at the Boyne Brewhouse. The 30hL Kaspar Shulz brewkit was commissioned last October and occupies just one part of the large facility based in a former car showroom by the M1 just outside Drogheda. When a Beoir delegation visited yesterday things were very much a work in progress, with extra fermenters due to come on-stream shortly, a bottling and canning line going through final checks before commissioning, the copper stills of the Boann Distillery awaiting their turn to be hooked up, and a gin still still in bubblewrap in its crate. When the facility is complete it will incorporate a visitors' centre and restaurant as well as a vast warehouse for maturing the whiskey.
The whole lot is owned by the Cooney family and trades under an independent umbrella company which uses the Irish form of the family name: Na Cuana. Pat Cooney bought the Gleeson bottling company in the 1970s and built it into one of the largest drinks firms in Ireland, producing, importing and distributing wine, soft drinks, cider and liqueurs. There was also a brief foray into beer with Behan's Brew No. 1 lager in the early 2000s. Then in 2012, Gleeson's was acquired by C&C, though the cider and cream liqueur arms have remained with the family and are still produced in separate facilities in Tipperary. Now the company has passed to the second generation of Cooneys, adding spirits and beer to the portfolio and expanding the cider range from budget brand Devils Bit to include a mainstream Bulmers competitor as well as a craft brand, Four Keepers, all of them produced from cider apples grown in the family's own orchard. After the sale of Gleeson's to C&C, there was money available. A distillery and brewery was the end result.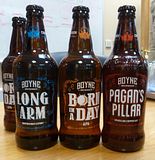 Production in Drogheda is headed by brewer and distiller Áine O'Hora who came to the company via Matilda Bay Brewery in Melbourne. Initial plans are for three core beers: Born in a Day pale ale which is already in pubs; Long Arm, a 100% Saaz Dortmunder-style export lager; and Pagan's Pillar, a traditional Irish red given a German twist with Mandarina Bavaria hops. All are 4.8% ABV and will be sold kegged and in the brewery's distinctive custom-embossed bottles. Specials and seasonals will follow in due course and the state of the art packaging facility behind the brewhouse allows for large-format bottles. Canned beer is also being planned. Though the bottles are pasteurised, a 26-metre-long tunnel pasteuriser allows a light touch, with the beer never going over 60°C. In keeping with a philosophy to use local ingredients where possible, malt is supplied by Loughran Family, topped up by speciality varieties from Weyermann.
Unusually for a start-up brewery, there's almost no room for expansion. The company has opted to go straight for the largest size possible -- capable of producing 35,000 hL of beer per year though the intention is to remain under the limit for the microbrewers' lower rate of duty.
The potential of the brewery and its suite of sister products is enormous. Na Cuana is set to become a major player in Irish beer and cider in the months to come as well as being a major tourist draw for Drogheda.
Many thanks to the Cooney family and Áine for their hospitality during our visit.
Andrew

4849
It's that time of the year when the evenings get shorter and the days get colder. Which means it's time for the winter seasonals/Christmas beers. There's been a massive increase this year with nearly half the Irish microbreweries producing at least one seasonal, and in some cases, two and even three. The styles are almost all malt-forward as expected for the time of year, with a couple of surprises. Red IPAs, Spiced Ryes and of course, the Coffee Porter/Stouts are all well represented. So, get tracking…
5 Lamps: Glendalough Barrel Aged Red, Porter and Dark IPA.

9 White Deer: Cask specials only- Black Lightning and Lon Dubh.

Beoir Chorca Dhuibhne: Festive Imperial Black Ale and Winter Ale.

Black Donkey: Dark Biere de Garde.

Blacks of Kinsale: "Worlds End" Imperial Chocolate Vanilla Stout.

Bo Bristle: TBA.

Boundary Brewing: Chili Porter and Coconut Lemon Berlinerweisse.

Brehon: Shanco Duhb relaunch.

Brú: "Darkside" Saison and 400 Day Barrel Aged Stout (in bottles).

Carlow: "Winter Star" Spiced Rye Ale

Carrig: Barrel Aged Black IPA and Red IPA.

Donegal: Expresso Stout.

Dungarvan: Coffee and Oatmeal Stout

Eight Degrees: "Snow Eater" Red IPA, "Signal" Belgium Stout and "Mór" Barleywine.

Elbow Lane: Vienna Lager.

Farmageddon: Winter IPA.

Galway Bay: "Space Suit" Dark Saison and "Diving Bell" Salted Caramel Wee Heavy.

Hooker: 3 beers TBA.

Independent: Bourbon Barrel Aged Barleywine and Brandy Barrel Aged Barleywine.

Inishmacsaint: Collaboration with Pokertree- TBA.

Jack Cody's: "Curly Hole" Samhain Ale.

JW Sweetman: TBA.

Killarney Brewing: TBA.

Kinnegar: "Maddyroe" Red IPA and "Long Tongue" Winter Ale.

Manor Brewing: TBA.

Mescan: "Beoir Na Nollaig" Red Tripel.

Metalman: "Orange Is The New Black" Orange Dark Ale.

Mountain Man: Cask Specials.

Mourne Mountain: TBA.

Northbound Brewery: Smoked Wheat Ale.

O Brother: Coffee Porter.

Otter Bank: Dark Sour.

Pokertree: Collaboration With Inisgmacsaint- TBA.

Porterhouse: TBA.

Radik Ale: TBA.

Rascal: Double Red IPA.

Simon Lamberts and Sons: Pinot Noir Barrel Aged Barleywine and Chardonnay Barrel Aged Belgium Brown.

St Mel's Brewing Company: Raisin and Oatmeal Stout.

Stone Barrel: Coffee and Oatmeal Stout and Oatmeal Amber.

Third Circle: Rye Stout.

Torc Brewing: Smoked German Ale.

Trouble Brewing: "Dash Away" Cherry Stout

White Gypsy: Yule Ol.

White Hag: Christmas Ale.

Wicklow Wolf: "A Beer Called Rwanda" Coffee Brown Ale.

Wild Bat: TBA.

Wood Key Brewery: Spiced Rye and Black Treacle Ale.
Mark Hilliard - Beoir PRO

9903
Currently there are 40 independent Irish craft brewery's across the island that brew vegan/vegetarian friendly beer. With a massive range of beers and styles there is certainly something for everyone.
This list will be added to over the coming days.
1. St.Mel's Brewing Company
2. DungarvanBrewing Company
3. Western Herd
4. Simon Lambert & Sons
5. RyeRiver (McGargles, Grafters, Solas, Crafty)
6. Brother Brewing
7. Galway Bay Brewery*
8. O'Hara's
9. Wild Bat
10. Black Donkey
11. N17
12. Independent Brewing Company
13. Wood Key Brewing
14. 8 Degrees Brewing
15. kelly's Mountain Brew
16. Galway Hooker Brewery
17. 9 White Deer Brewery*
18. Mountain Man Brewing
19. Radikale ale
20. Drew Fox
21. Mescan Brewery
22. Barrelhead Brewery
23. JW Sweetman
24. Boundary Brewing
25. Otter Bank Brewing
26. Blacks Brewery *
27. Pokertree
28. Treaty City Brewing
29. Rising Sons Brewery
30. Walled City Brewery
31. Metalman
32. Ards Brewing
33. West Mayo Brewery
34. Four Provinces
35. Elbow Lane
36. Donegal Brewing Company
37. White Gypsy
38. Munster Brewery
39. Torc Brewing.
40. Manor Brewing
*Exception GBB: Buried at Sea, contains lactose.
*Exception 9 white Deer: Cask ale
*Exception Blacks: Some old bottles