CorkBoy1

7432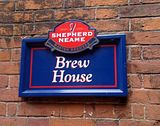 I am a somewhat frequent visitor to Kent so I thought I should take the time to visit Faversham and the oldest surviving brewery in the world, particularly since I do enjoy many of their offerings and eagerly await the start of each new season for the seasonal specials. However I was aware that not everyone on the IrishCraftBrewer site is a fan and that the burning question for some time has been: why clear glass in the bottles and not brown to avoid skunking?

Armed with my ICB t-shirt and my brother-in-law for moral support I showed up at the visitor centre on Saturday morning. The tour starts, as many of these things do, with a short video presentation on the history of the site and brewing in Kent. The guide then elaborated that it had been thought that brewing started here in 1698 but recent papers discovered had shown brewing taking place on the site as far back as 1500.
Barry Masterson

6891
Welcome to the new Beoir.org website.
Launched on July 1st, 2010, Beoir is an independent group of consumers which seeks greater choice, quality and value-for-money for beer and cider drinkers on the island of Ireland. Our primary goal is to support and raise awareness of Ireland's native independent microbreweries and craft cider-makers. Additionally, Beoir promotes and encourages amateur craft brewing, and the making of other fermented beverages. It seeks to assist amateur brewers in improving the quality of their end product through the sharing of information. Beoir.org is now the on-line presence of Beoir, providing a place for those interested in supporting Ireland's native micro breweries to join a community of like-minded people, and play a part.
Beoir is a natural development out of the former IrishCraftBrewer.com (launched in March 2007), an on-line community for beer lovers in Ireland. At a high level, IrishCraftBrewer.com was about appreciating good beer, and promoting choice in Ireland. Although not officially organised as a campaign, members of the IrishCraftBrewer.com community raised awareness of quality beer and brewing in Ireland appearing on TV and radio shows as well as in the printed media. By setting up Beoir, the intention is to become more organised with these activities, and to further increase the awareness and appreciation of locally-brewed beer.
TheBeeerNut

8082
All did not go according to plan.
The post-mortem of the first Kit/Extract/All-Grain blind comparison decided that the brewer's proficiency with the various methods was affecting the outcome. It was therefore decided that for round 2 there would be three different brewers working to roughly the same recipe, each with a track record of successfully producing good beer via a particular brewing method. The result would be three beers in the same style made under optimum conditions with only the respective merits of their method of production to set them apart, thereby allowing the method itself to be judged, not merely the beer.
Since there was an old Brupaks Black Moor Stout kit to hand, stout was the chosen style for the test. The presumed poor condition of the unmade kit would serve to highlight one of the issues faced by kit beers: low turnover of stock and resulting oxidised off-flavours. As the kit expert, IrishPartyAle agreed to make this up, to an OG of 1.043. I made a similarly simple dry stout using dry malt extract, OG 1.043, and sbillings produced an all-grain version at 1.041.
The names IV, V and VI were assigned at random, and the tasting panel assembled on 28th July to try the beers blind.
But, as I said, all did not go according to plan.
Paul O'Connor

6299
For those who weren't at the ICB brewery tour at Trouble HQ recently, we announced a tentative plan to hold a brewing competition. The competition will select a home-brewed beer to be scaled up to a commercial batch size in our Allenwood brewery and be sold at the Franciscan Well Easterfest in 2011.

Here's the T&C's: