dhat

12470
For the amateur brewer in a hurry, we present seven important ready-reckoner tables, covering attenuation, alcohol content, hydrometer correction and yeast pitching rates.
All files are in PDF format.
The tables were produced using the online calculators at Pint.com.au and MrMalty.com.
Irish Party Ale

7988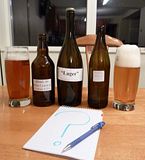 After the inconclusive previous rounds of testing for Kit v Extract v All-Grain (round 1; round 2), it was decided to have a third round, for the purpose of answering such crucially important questions as:
1) Can you tell the difference between them?
3) Do old kits taste different to new kits?
4) Do beards really help?
In order to make it completely bullet-proof we went for a beer where off-flavours had nowhere to hide: a light lager-like ale. What could possibly go wrong?
Read more: Kit vs. Extract vs. All-Grain III: Battle of the Blondes
TheBeerNut

15309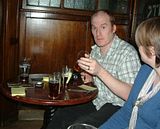 It's a style that is quintessentially ours, yet is recently evolved from a foreign progenitor. It has been a mainstay of dumbed-down Irish macrobeer for decades, yet has seen a revival at the hands of newer craft breweries. Just what is the story with Irish Red Ale?
Late last year, a small group of us gathered in the Dublin pub with the best selection of reds, plus one British keg bitter, to find out via blind tasting if the microbreweries really are doing a better job, and if the Irish Sea really does mark the boundary of the style.
CorkBoy1

7267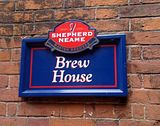 I am a somewhat frequent visitor to Kent so I thought I should take the time to visit Faversham and the oldest surviving brewery in the world, particularly since I do enjoy many of their offerings and eagerly await the start of each new season for the seasonal specials. However I was aware that not everyone on the IrishCraftBrewer site is a fan and that the burning question for some time has been: why clear glass in the bottles and not brown to avoid skunking?

Armed with my ICB t-shirt and my brother-in-law for moral support I showed up at the visitor centre on Saturday morning. The tour starts, as many of these things do, with a short video presentation on the history of the site and brewing in Kent. The guide then elaborated that it had been thought that brewing started here in 1698 but recent papers discovered had shown brewing taking place on the site as far back as 1500.