TheBeerNut

5383


The Irish Craft Beer Festival 2015 is almost here. For three days, dozens of breweries and hundreds of beers will be taking over the RDS in Dublin, alongside whiskey, cider, food, music and debate. It's the perfect opportunity to explore Irish craft beer under one roof, and try beers from breweries you've never met before.
But there's also the chance to taste one-off and rare beers not usually available at all. We've decided to compile this list of the specials we know about to whet your appetite ahead of the festival. It's not complete, it may not even be accurate, but it should get your mouth watering.
Don't forget to bring your Beoir membership card for half price admission at the door!
Blacks of Kinsale
Sour Brown Ale
Jester Brown

Dungarvan
Imperial Red Ale: 7.3%
Porter: 5.1%
Strong Ale: 10.4%
October Ale: 7%
Copper Coast aged in Sherry barrels: 4.3%
Raspberry Black Rock: 4.3%
IPA: 7.2%
Eight Degrees
Ochtoberfest Boch: 6.4%
Millennium Imperial IPA: 10%

Kinnegar
Hilly Head Farmhouse Red Ale
Crossroads: American Style IPA, 6.2%
Geuzberry: Gooseberry kettle sour, 5.2%

Mountain Man
Hillbilly Heaven: American bourbon oak aged ale
Hairy Nuts: IPA with pecan nuts
Broken Hipster: Ginger beer
No Country for Owl Men: Irish whiskey oak aged Ale
Beard of Zeus: Raspberry Ale
Bruce's Bluenoser: 4% blueberry ale
Year of the Goat: 4.5% coriander & anise ale
Vincent Van Coff: 4.6% coffee & vanilla ale

Northbound
No-Name IPA
33: Sticke Altbier
O Brother
IPA
Brutus Double IPA
O'Hara's
Rhubarb and Strawberry Wheat Beer
Hop Heavy IPA
Radikale
Curious Brew: Brewed with gin botanicals
Rascal's
Chardonnay Aged Saison
Big Hop Red infused with 250 Square Coffee
Sim Simma: Hemp ale
Rye River
Triple Decoction Doppelbock
Baltic Porter
Rye River Saison
Smoked Belgian Dunkelweizen
Double Decoction Marzen
Vienna Lager
Oak Aged Keeping Red
Hipster Hopped - TNT
Hipster Hopped - Azacca
Hipster Hopped - Experimental Grapefruit
Watermelon Wheat Ale
Sexy Lacto Flanders
Sticker Junkie: IIPA
Belgian Single w/ Nelson Sauvin
Farami: coffee stout
Lemondrop Berliner
Lapsang Souchong Porter 5.4%
Stone Belly IPA 6% (Yellowbelly Stone Barrel Collab)
West Kerry

Bitter Sable: Black APA

Blue Rose: Cascade hopped pale ale

Black Elder: Dry hopped black ale
White Gypsy
Cream Ale
Helles
Wicklow Wolf
Simcoe IPA
Elevation Pale Ale
FreeRanger IPA
Belgian Brown
Saruman

6286
Beoir launches a new awards programme at the

Killarney Beerfest this June!
Are you a commercially viable brewer on the island of Ireland?
Then give your beer the praise it deserves with an award from Beoir.
The Awards are part of the Killarney Beerfest which take place over three days, June 5th - 7th in Killarney.
There will be also be, beer master-classes, beer tastings, a food village & live music with Picture House, The Swing Cats and Jerry Fish.
We are flying in a number of experienced international judges as well as utilising our own experienced judges in Ireland.
Competition categories include:
Pale Ale

Belgian Style Ale

Dark Ale

Lagers

Porter/Stout

Wheat Beer

Speciality

Sour Beer
Entry deadline is the 29th of May. For all Terms & Conditions and the Beoir judging process email

This email address is being protected from spambots. You need JavaScript enabled to view it.
Saruman

7320
The 2015 Dublin Craft Beer Cup was awarded to Coisbo Beer of Denmark for the second year in a row, this time for an imperial Russian stout aged in sherry barrels.
It appears the competition might have been fiercer and the judging more stringent this year. In previous years, it seemed that almost everyone got medals. Not this year, those qualifying for at least a bronze medal were few and far between compared to last year. sure, we got more than last year but we have a lot more breweries and they had a lot more beer to enter than last year so to have over 30 Irish winners among so many world class entries is something we can be proud of.
This year, we had two Irish breweries take home a gold medal. Congratulations to Carlow Brewing for their barrel aged Lean Folláin and also to Manor Brewing for their Mont Irish Mountain Lager.
Like last year, I've taken all of the Irish medal winners from the list and I'm listing them off here. A big congratulations to all of the medal winners. I think you can be even more proud when you consider how many beers didn't get medals this year.
We also had Cider added to the competition this year.
Carlow Brewing Company - O'Hara's Barrel Aged Leann Folláin

Manor Brewing Company- MONT Mountain Lager
5 Lamps Dublin Brewing - 5 Lamps Lager

Kinnegar Brewing - Black Bucket

Kinnegar Brewing - Yannaroddy

Rascals Brewing Company - Chocolate Ginger Porter

Rascals Brewing Company - Wit Woo

Blacks Of Kinsale - High Vis

Blacks Of Kinsale - Black IPA

Hilden Brewery - Hilden Irish Stout

Metalman Brewing - Metalman Heatsink
12 Acres Brewing Company - 12 Acres Pale Ale

Wicklow Wolf Brewing Company - Black Perle Porter

Kinnegar Brewing - Devil's Backbone

Eight Degrees Brewing - Hurricane IPA

James Brown Brews - Chocolate Orange Stout

Dungarvan Brewing Company - Mine Head

Dungarvan Brewing Company - Mahon Falls

The 5 Lamps Dublin Brewing - Phoenix Dark

Carlow Brewing Company - O'Hara's Leann Folláin

Blacks Of Kinsale - RocketShip IPA

Kelly's Mountain Brew – Revenge

Black Donkey Brewing Ltd - Sheep Stealer

The Porterhouse Brewing Company – Porterhouse Red Ale

The Porterhouse Brewing Company - Wrasslers 4X
Dan Kelly's Cider - Fiona's Fancy

Dan Kelly's Cider - Dan Kelly's Cider
Carlow Brewing Company - Falling Apple

MacIvors Cider Co. – MacIvors Medium Cider

MacIvors Cider Co. – MacIvors Traditional Dry Cider

dj's juice and cider- Tempted? Dry Cider
I hope I didn't miss anyone this time. A full list of winners can be found here on the Alltech site, though even that list is incomplete. It's more complete than yesterday when it only showed 16 Irish winners.
TheBeerNut

9691
For the fourth year of its existence, Beoir has run a competition to find Ireland's favourite beer: the one the drinkers enjoyed most and want to see more of, and more like it. Every beer brewed and sold on the island in the past year is eligible, and previous winners have included Franciscan Well's Shandon Century Stout and Metalman Pale Ale.
With the explosion of new breweries in 2014, the field was bigger than ever and a total of 128 different beers from all over the country received votes from their fans. It was a very close run contest but even from early on, three beers in particular stood out amongst the pack.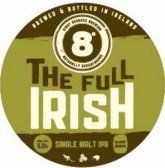 2015 Beer of the Year
The Full Irish
an IPA by Eight Degrees Brewing, Mitchelstown, Co. Cork
As has become tradition at this stage, a new arrival took the top prize. The Full Irish was introduced at the 2014 Franciscan Well Easter Beer Festival to immediate acclaim. Its name comes from the 100% Irish grain bill, using malt supplied by The Malting Company of Ireland which, like the brewery, is based in Co. Cork. Where this India Pale Ale really shines, however, is in the hopping. Generous use has been made of American varieities Ahtanum, Centennial, Citra and Amarillo, giving a punchy 65 IBUs and lots of grapefruit and tropical fruit aromas and flavours. Since the first outing at Easter the beer has appeared several times and is now available bottled as well as on draught. It's a beer to drink fresh so if you have any in stock, toast its success now!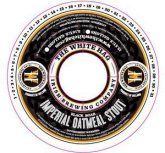 1st Runner-Up
Black Boar
an imperial stout by The White Hag Brewery, Ballymote, Co. Sligo
Not only a new beer, but a brand new brewery in second place. The White Hag, and Black Boar in particular, caused a seismic ripple when it set up stall at the Irish Craft Beer & Cider Festival in the RDS last September. Even at the opposite corners of the hall, beer enthusiasts were passing around glasses of the unctuous imperial stout, speaking in hushed reverential tones. Brewmaster Joe Kearns earned his chops stateside and has brought plenty of that American nous to this beer. At 10.2% ABV it's an uncompromising stout, but wonderfully smooth with that, avoiding the heat and harshness that strong beers like this sometimes have. Many a Beoir member can testify to its dangerous drinkability. While officially only produced for export, we'd like to thank the brewery for letting the occasional keg roam free locally.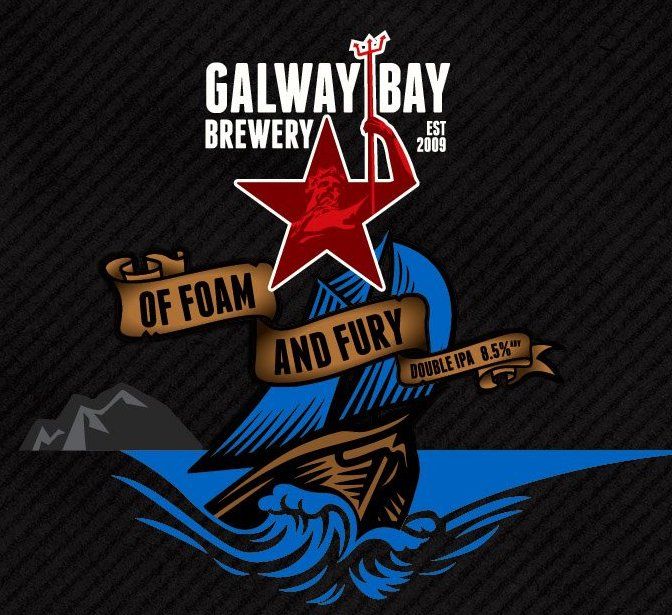 2nd Runner-Up
Of Foam & Fury
a double IPA by Galway Bay Brewery, Galway City
Proof that its gold medal last year wasn't a fluke, Of Foam & Fury has held its ground on the awards podium for a second year. 2014 saw it available outside the brewery's pubs for the first time, in a bottle-conditioned format. And while we understand the detail of the recipe has changed a little, it's still as weighty, warming and fruity as ever it was.
Congratulations to the winners and thank you to all the Beoir members who took the time to vote.